South African Horse Racing
South African horse racing is a very popular sport and its history goes back almost as far as that of the UK. For those new to racing in South Africa this page offers wagering angles and regular tips. 
 South African Race Tips 03 August 2021
Vaal  - 11.50 BUCK'S FIZZ 
Vaal - 12.25   ABALUS
Vaal  - 15.25  NOW YOU SEE ME 
Modern communications enable horse racing fans anywhere in the world to become involved.

The aim of this webpage is to educate punters new to South African horse racing. This will include the following areas:
Race tracks - Trainers - Jockeys - Horses - Races - Governing Bodies
Race Tracks:
Eastern Cape - Arlington Racecourse, Fairview
Free State - Vaal Racecourse,
Gauteng - North Rand Training Centre, Turffontein Racecourse
Kwazulu-Natal - Clairwood Turf Club, Greyville Turf Club, Scottsville Racecourse
Northern Cape - Flamingo Park Racecourse
Western Cape - Durbanville Racecourse, Kenilworth Racecourse
TRAINERS
Top 10 Trainer records 1 August 2018 - 30 July 2019:
Name and Total Prize Money SA Rand
S.G. Tarry                     30,710,225.00
S.J. Snaith                     25,196,312.50
M.F. de Kock                   23,012,612.50

B.J Crawford                   13,688,900.00
A.C. Greef                       12,562,012.50
P. Peter                           12,562,012.50
C.L. Bass-Robinson(Mrs)  10,563,975.00
Y. Bremner                        9,719,425.00
G Kotzen                           8,119,962.50
JOCKEYS
Top 10 Jockey records 1 August 2018 - 30 July 2019:
Name                                    Stakes
L. Hewitson                         27,305,950.00
Mr M A Yeni                         20,211,875.00
Mr A Marcus                         33,090,337.50
Mr G J Lerena                      21,260,437.50
Mr G M Cheyne                     12,959,675.00
Mr R D Fourie                          22,792,662.50
W Kennedy                              17,218,525.00
R Munger                                 11,787,400.00
K de Melo                                 11,503,912.50
B Fayd'Herbe                             10,116,587.50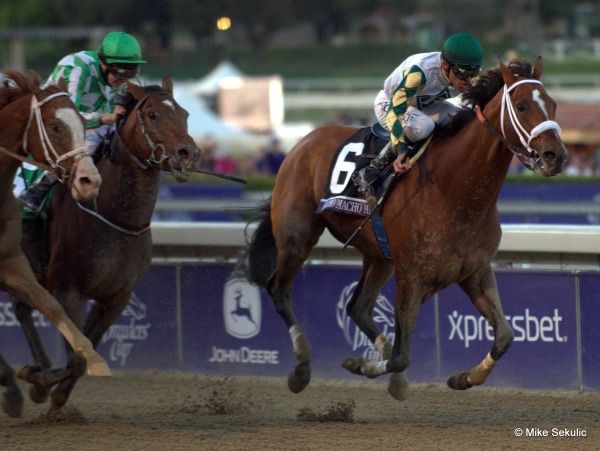 HORSES
Top 10 Horse records 1 August 2018 - 30 July 2019:
Name                                         Stakes
HAWWAAM                           5,628,125.002
DO IT AGAIN                        5,102,500.003
RAINBOW BRIDGE             4,895,000.004
CIRILLO                               4,476,000.005
ONE WORLD                         3,115,625.006
TWIST OF FATE                   2,777,500.007
SOQRAT                               2,066,250.008
KASIMIR                                1,813,000.009
RETURN FLIGHT                  1,622,350.0010
TILBURY FORT                     1,556,700.00
Major Races
There are 3 principle races 
1. The Summer Cup takes place in Johannesburg
2. The J & B Met takes place at Kenilworth Racecourse
3. The Durban July takes place in Durban
South African Horse Racing Authorities
South African horse racing is regulated by 2 bodies:
1. Phumelala Gaming and Leisure Ltd who cover The Free State, the Northern Cape, The Eastern Cape and Gauteng.
2. Gold Circle who cover the Western Cape and Kwazulu-Natal.
Back to homepage from South African Horse Racing
Returns Policy: Once a customer has agreed to pay for a product or service no returns will be permitted or payments returned.
All PayPal transactions are subject to the PayPal Privacy Policy
Privacy Policy: Personal details provided to this site by an individual may be shared with third parties unless requested otherwise.
Above policies updated 15 March 2018