The Each Way Double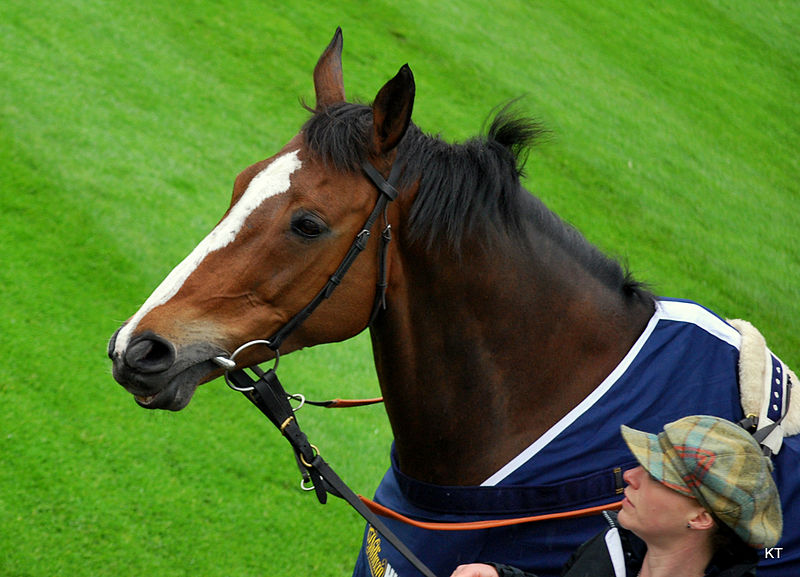 Champion Chaser Kauto Star
Free Each Way Double Tips 02 Oct 2023
15:10 Hamilton  Ingleby Archie 

15:40 Hamilton Zarabanda 
The each way double bet can produce good returns even if the odds are small; especially if 1/4 odds are offered on the place part.
If you backed a horse each way at 3/1 you would lose money but combine 2 of them in an e.w. double and you begin to start making money.
The principle is that the return on the first race, if it places or wins, is used for the stake on the 2nd race. If the 2nd race places or wins then the bet is successful. 
Obviously the return depends on the odds involved.
How Doubles Work
For example if we placed a £10 each way double on 2 horses in different races priced 3/1 at 1/5 the odds the return if both place is £25.60 giving a profit of £5.60.

If both win however the return is £185.60 and the profit is £165.60.

You can also place an each way double on two or more horses in the same race. But of course only one of them stands to win.
Obviously the each way double bet is worth serious consideration especially if we can find ourselves a bet where one of the odds is say 10/1.

Let's look at the return for a £10 bet where we have odds of 10/1 and 4/1. This would return £620 giving a profit (less stake of £20) of £600 if both won.

The Oddschecker bet calculator makes it easy to work out potential returns. To use the calculator CLICK HERE.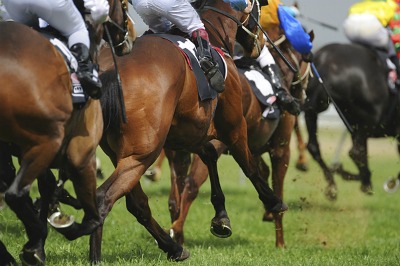 Flat Horse Racing on Turf
Other Types Of Bets In Horse Racing

Whether you're betting online or with racecourse bookies, there are several different types of bets that you can place.
Some of the biggest winning bets on racing have been possible because of bets other than win singles or each-way bets and so it's worth understanding what they mean so that you can consider them for your future wagers.
So, to get things started, let's take a look at the different types of bets you can place on horse racing starting with the most common.

Single

The simplest and most common of all bets. A single win bet placed on a race.
You'll find many experts providing racing tips today which you can either place as singles or combine into a bet type listed below.
Double

A bet consisting of two selections. Both selections must win in order to see a return from your bet.
Treble

Similar to above except that your bet needs to contain three different selections and all must win.
Accumulator

An accumulator is a bet that contains four or more selections. Again, all selections must win for you to see a return. Accumulators can also be referred to as four-folds, five-folds, six-folds etc depending on the number of selections in your bet.
Trixie

Similar to a treble, a Trixie contains three different selections. However, it is split into four separate bets - three doubles and a treble of all possible combinations. To see a return, a minimum of two selections must win.
Patent

Again, three selections feature in a Patent but it consists of seven separate bets of all combinations - three singles, three doubles and a treble. Just one selection must win for you to receive a return from a Patent.
Yankee

A popular choice with horse racing punters. A Yankee bet consists of four selections and a total of seven bets which are made up from six doubles, four trebles and a four-fold. Two or more selections must land for a return.
Lucky 15

Even more popular are Lucky 15 bets. Fifteen separate bets are made up from all combinations using four selections. Four singles, six doubles, four trebles and a four-fold.
Many bookmakers offer bonuses on Lucky 15 bets for either having just one winner or one loser which is another reason why they are so popular.
Canadian/Super Yankee

26 bets make up Canadian and Super Yankee bets from a total of five selections. Ten doubles, ten trebles, five four-folds and a five-fold. Big money if all of your selections land.
Lucky 31

The big brother of Lucky 15s consisting of an additional fifth selection and making up 31 separate bets of five singles, ten doubles, ten trebles, five four-folds and a five-fold. 
Heinz

This bet type consists of six selections and a whopping 57 individual bets which are made up from 15 doubles, 20 trebles, 15 four-folds, 6 five-folds and 1 x six-fold. It's a huge bet that has produced some big wins over the years from all six selections landing, albeit not very often.
Lucky 63

Again featuring six selections, Lucky 63s are made up of 6 x singles, 15 x doubles, 20 x trebles, 15 x four-folds, 6 x five-folds and 1 x 6-fold, making up a total of 63 bets. 
Goliath

The biggest combo bet so far with 8 different selections and a total of 247 separate bets! 28 doubles, 56 trebles, 70 four-folds, 56 five-folds, 28 six-folds, 8 x seven-folds and 1 x eight-fold make up a Goliath which are generally placed using small stakes for obvious reasons.
Quinella

With Quinella bets, you are backing horses to finish first and second in a race. You can select more than two horses in your bet and it will win should any of them occupy the first two places. The odds of your bet, if it wins, will depend on the odds of the individual horses that finished in the first two places. 
Checking Places/Odds For Each Way Double
The race types for places and odds for horse race bettors can be found below:

Non handicap races

2-4 runners win only

5-7 runners 1/4 the odds for the first 2 places

8+ runners 1/5 the odds for the first 3 places

Handicap Races

2-4 runners win only

5-7 runners 1/4 the odds for the first 2 places

8-11 runners 1/5 the odds for the first 3 places

12-15 runners 1/4 the odds for the first 3 places

16+ runners 1/4 the odds for the first 4 places

Back To Betting Management from each way double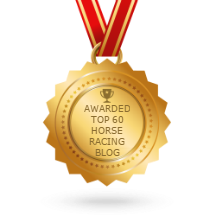 Returns Policy: Once a customer has agreed to pay for a product or service no returns will be permitted or payments returned.
All PayPal transactions are subject to the PayPal Privacy Policy
Privacy Policy: Personal details provided to this site by an individual may be shared with third parties unless requested otherwise.
Above policies updated 15 March 2018