Famous race-tracks - come with me on my journey....
to discover some of the most famous or underrated race-tracks in the world.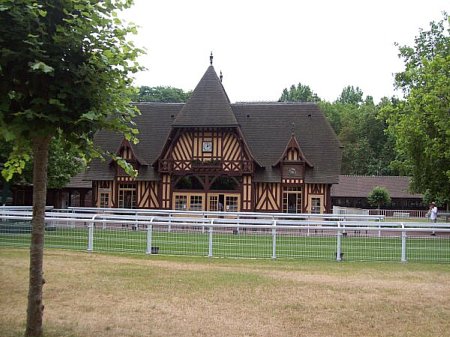 My first visit to a race-track outside the UK was made to Deauville-La Touques Racecourse, Normandy, France home to some of the best horse racing events. 
In 2011 I journeyed to Sligo Racetrack in Southern Ireland.
Deauville is a glorious course situated near the centre of Deauville, constructed in 1862 by Charles Auguste Louis Joseph, duc de Morny, the half brother of Louis Napoleon Bonaparte.
View Larger Map
It is all kept in immaculate and pristine condition and even the stable blocks exude Olde Worlde charm.
I visited with my sister, Sarah and on arriving by car from Caen along the coast road we stopped at the Tourist office for directions to the race track.
To our surprise we were offered free entry tickets so I recommend you do the same to avoid paying (admittedly only a few Euros) to get in. This was in early July so when the season gets into full swing the free entry may not be available.
The Race-Tracks
It is a huge course covering 75 hectares and boasts three horse tracks
* Straight: 1600m rope.
* Round Outdoor turf Track: 2200m righthanded.
* Round Indoor synthetic Track 2000m righthanded.
The Weighing Room is a large attractive free standing building behind the Parade Ring / winners enclosure. The parade ring is easily accessible to all and there are seats on a low bank to watch the horses walk round.
The main Grandstand building for placing bets is a series of halls with overhead race monitors displaying the current race prices and counters for placing your bets.
Being unfamiliar with the process, we were advised by a friendly french official, who took our bets and offered advice as to the likely winner. (He even amused us by singing us a snatch of a french racing song)
The horse (which we backed) went on to win his race and is pictured here.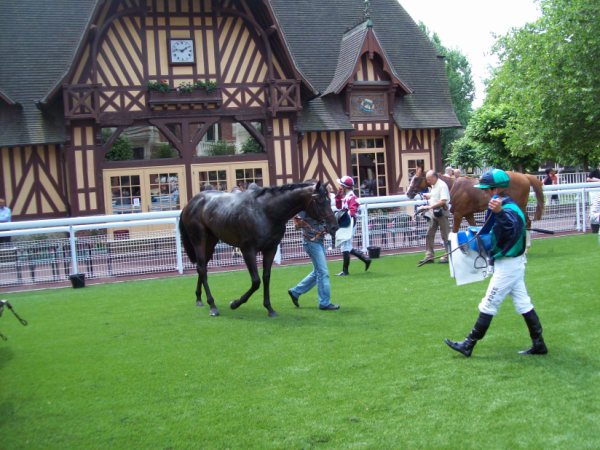 Deauville Winners Enclosure
The toilets are situated in this building and are clean, airy and well appointed.
Having placed your bets you move out through the building to the standsoverlooking the race-tracks from which you have a good view of the entire race track.


Group 1 races staged:
* Prix Jacques Le Marois
* Prix Jean Romanet
* Prix Maurice de Gheest
* Prix Morny
* Prix Rothschild
How to get to the race-tracks
By train:
Direct connection from Paris Saint-Lazare to Deauville-Trouville, multiple round trips per day, click here to obtain the schedules and fares or to make an online reservation.
By road:Caen-Deauville: N176 then N177Paris-Deauville: A13195 km, including 186 km of highway (necessary time : approx. 2h05mn)Toll fares: 8.80 eurosMore details on the SAPN official web site
By sea:
Multiple trips per day
Brittany Ferries: Portsmouth - Caen/Ouistreham - Tel: 00 33 (0)2.31.36.36.36
LD Lines : Portsmouth - Le Havre - Tel: 0 825 304 304
By air:
Connections with the international airport Deauville-St GatienTaxis airplanes, charters, helicopters. Tel: 00 33 (0)2.31.65.65.65
By bus:
Bus connections by the Bus Verts du Calvados line n°20 between Caen - Deauville - Honfleur - Le Havre
Deauville Grandstand
Admission to the race-tracks
under 18's Free
Student cards and 60 + €1.5 Week €2 Sunday, holidays
Standard rate €3 Week €4 Sunday, holidays
Lodges years inclusive 4 places € 850.00
6 seats €1,000
Reserved seats
On Weekdays €4
On the day Sunday and holidays €8
A season without restriction €60
* The capacity is 10,000 seats
* 2000 parking spaces (€1 and €2 weekdays weekends)
* A panoramic restaurant
* Possibility to rent spaces by the day or season.
SERVICES AND INFRASTRUCTURE
Catering
* A panoramic restaurant "La Toque"
* A brewery "The Paddock Gardens"
* Snack bar "The Stud"
* A bar "The gowns.
Local hotels
La Closerie
Deauville self-catering condo property with a full-service health spa. This hotel is rated 4 stars out of 5
This Deauville condo property is located near Deauville La Touques Racecourse and Plage Deauville. Another nearby point of interest is Trouville Beach.
156 avenue de la République
Deauville 14800
France
L'Augeval
Deauville romantic hotel with a full-service health spa
Star Rating - This hotel is rated 3 stars out of 5
15 Avenue Hocquart De Turtot
Deauville 14800
France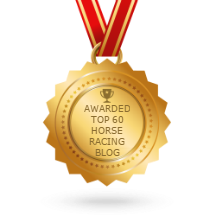 Returns Policy: Once a customer has agreed to pay for a product or service no returns will be permitted or payments returned.
All PayPal transactions are subject to the PayPal Privacy Policy
Privacy Policy: Personal details provided to this site by an individual may be shared with third parties unless requested otherwise.
Above policies updated 15 March 2018