BF Bot Manager Just Got Better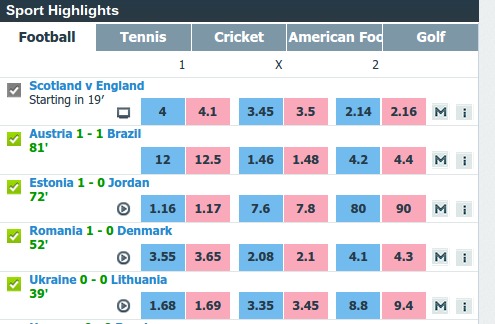 Betfair Markets
TippingSports offers proofed free tips and BF Bot Manager will place them for you. Missing a winning tip because you were unable to place it is now a thing of the past.
This is a quarterly review of tipsters at TippingSports. There are a few new tipsters whose tips are free and that are making a good profit. There are also many other new tipsters that have joined the web site over the last three months.
The TippingSports web site is now updated and ranks tipsters by profit. Betfair commission of 4% is deducted from market profit for all tipsters! This should help everyone find profitable tipsters with ease.
P/L: +297.90 Frontie is tipping only WA greyhounds. He says that he is on premium charges on Betfair and banned from most online bookmakers. He makes his own ratings and is very professional and reliable tipster.
P/L: +282.64 Troubadour is one of best horse racing tipsters. Most of his tips are for South African horse racing, but there are tips for Australian racing too. For last five months he made massive profits. Beside tips he also regularly posts at his profile page advice and very useful information about each day races.
P/L: +128.16 Bugzy has tips for horse racing and golf tournaments. He had six successful months with constant profit. This month he made loss, but by looking at his previous results this should change to better soon. He recommends two betting banks, one for horse races and second one for golf events. For more details you should contact him directly by posting as his wall.
P/L: +92.18 Stockholm tipster specialized in football tips for major European leagues. He is a member since March, so his overall profit is lower than for other top tipsters. Strike rate of 58.16%is very high as tips are usually at smaller odds, with ocassional tips at higher odds.
Profit is calculated by using Betfair Start Price or price that was available few minutes before event start time and 4% Betfair commission is deducted from any market profit for each tipster.
---
It's Saturday morning and you are waiting for your tips to arrive. Then your wife hauls you off to the DIY store to get that new cupboard or paint for the living room. 

Or during the week your manager calls you into an urgent meeting just as you are about to place your usual bets.
Place Bets Automatically
So you can imagine my delight in a system that places tipster selections on the Betfair Exchange.
I was talking to Rade, the creator of BF Bot Manager, recently. He mentioned that he has teamed up with a new website called TippingSports.

The site allows tipsters to proof their tips which are then sorted in order of profitability. They will be visible to all members as it's free to join.

BF Bot Manager v3
Now comes the clever bit. BF Bot Manager v3 places on Betfair the selections of any tipster who is showing a consistent profit.
No more missed winners, no need to check your email account for the day's tips. The system takes care of everything for you - bliss!

What is great about BF Bot Manager is that you can use the software free. This means it gives you time to get to know your way around and to set up betting strategies for any tipsters.

I signed up to TippingSports giving access to all the tipsters bets. Those that have proofed for less than 3 months are free of charge. You can see at a glance the profitability of each tipster.


I also decided to post some of my own tips on a daily basis. It is pleasing to find that the website is easy to navigate with a huge range of international markets.
Events offered include Greyhound Racing, Horse Racing, and a variety of ball games. Horse Racing alone covers 9 different countries from Australia to the USA

There is growing number of active tipsters. See at a glance which are profitable and which offer tips on the sports that interest you.
Place Bets Using Staking Plans 
A useful section covers staking plans. These include Fibonacci, Martingale, Parlay and Percent of Betting Bank. If you are a tipster there is a staking plans analysis for your own tips.
For example after 33 of my tips the analysis shows the varying staking plans profits:

Examples are for staking 1% of a £1000 bank

Level Stakes = 335.50  - max stake of 20

Fibonacci = 807.50   - max stake of 100

Martingale = 525.51  - max stake of 51.41

You can set up the bot to place bets according to a staking plan of your choice

Now this is the cool part I was talking about; automating the placing of bets.
You will need to get the software BF Bot Manager v3 for a recurring fee of as little as £9.99 per month. You can try before you buy through their 5 day free trial.

So you get 5 days of tips placed for you on your Betfair account free for 5 days. Some of these tipsters are producing great results. 
How Is It  Working For Me?

To test the service I have Joined TippingSports for free. I am following a couple of tipsters which are producing the best profit currently.
I am posting my own daily tips at  TippingSports.

I am running BF Bot Manager so that the tips place on Betfair.
It is a good idea to make use of the Simulation Mode for a few days to ensure all is well.

Warning: Check each day that the Betfair Service status at bottom of screen is showing green OK. If not the BF bot will not be able to place your bets (the ones you miss are bound to be winning ones!)

If it is showing an error log out and restart the bot.

Also do not allow you computer to go to sleep or hibernate mode as the bot will stop working. It is easy to change your computer settings. 
Interview with Rade, BF Bot's Creator
To answer some questions I had, I was able to interview Rade, the owner of BF Bot Manager:
Chris: Rade, I shall be away next week but plan to leave the Bf bot running on my laptop. Is it ok to close the lid (not log out) or do I need to leave the lid up on the laptop?

Rade: Your laptop must stay up and running all the time. It must not go to sleep mode, hibernate or stand by mode.

In such situations it is best to use VPS server to run the bot. You can access it from anywhere. Here is link to article about VPS servers that we recommend: https://www.bfbotmanager.com/help/16

Chris: The bot loaded some football bets from Philip last night. But did not place due to 'market does not satisfy time' - what happened here?

Rade: All tips at TippingSports.com must be added at least 15 minutes before event start time. Once tip is available it takes 5 minutes for tip to become valid and official, published.

A tip may become available at 16 minutes before start time. It will publish and return by unique URL only after 11 minutes before start time.

I am not sure what reload time you set at your Tips schedule. I suspect that is the problem here. You need to adjust it to 10 minutes or 8 minutes to ensure that bot also gets those last minute tips.

Tips for Philip account were added in last minute yesterday, so I guess that is the problem. Adjust reload time for tips to 7-8 minutes and it should work fine in future.

Chris: Can the bot place bets according to a staking plan eg Fibonacci?
Rade: Yes, that is possible. You can add staking plans at Staking tab for each strategy. In case of multiple tips per football match you might not get staking sequence that you expect.
For correct staking sequence wait for previous tips settlement before placing new bets.

I recommend that you use staking plan only with horse racing tips. For tipsters that publish 1-2 tips per race. Use one strategy for WIN market tips and second strategy for PLACE market tips.

Chris: Can I request Starting Prices when placing tips. Not sure where the prices quoted come from and if they change before the off.

Rade: Several hours before start time Betfair Back or Lay prices display. These are available when market becomes live at tippingsports.com. This is usually not so good as the Betfair starting price (BSP).

For all BSP markets BSP price is used to settle tips. For all other markets prices are recorded 1-2 minutes before start time and best Back price is used.

Chris: Is it possible to save strategies when added? I added a couple then the computer shut down and when I restarted the bot the 2  new strategies had gone.

Rade: You can export strategies at any time by using "Export strategies" button. I recommend you do this whenever you make changes to your strategy, so that you always have a backup.

Strategies save by default when you exit software by using X or Logout button.
Chris:Is it possible to tell the bot to stop placing bets for a strategy when at a specified loss.
Rade: At "Safety rules" tab for each strategy you can add Max profit/loss. For selected strategies condition set it to pause strategy when one of those it reaches a loss.