Horseracing betting systems

A look at the best horseracing betting systems 

Readers of this website may well have encountered the 2 tried and tested systems explained by Nick Wigg - namely "The Four Day Horse" and "Bandits". To find them just enter the system name in the Google Custom Search box at the right top side of any web page.
Systems expert Mark "Statman" Foley has been providing consistent profits for members of his Trainer Trends now for a number of years.

Mark has agreed to share with Horse4course-racetips 2 simple but lucrative systems.
1. Follow The Jockey

The jockey is Liam Treadwell and the trainer is Venetia Williams.
Riding for Venetia Williams for the past 2 years since winning the Grand National on Mon Mome, Liam Treadwell has made returns of 28% in 2012 and 62% so far in 2013.

Stick to runners priced 12/1 or shorter since 2012

The most impressive returns are in Handicap Chases where the record is 11 wins from 23 runs for a 179% ROI and all but 2 of 12 favourites won.
The Grand National is commonly regarded as the premier handicap chase, held annually at Aintree racecourse.
Of all the chases in Europe it boasts the most prize money, amounting to over a £1 million. It is also watched by over 500 million people worldwide through UK TV broadcasting.
Because of its extreme distance of 4 miles 414 yards and the size and difficulty of its fences it presents a severe test to any thoroughbred chaser.
The most successful winner is Red Rum, trained by Ginger McCain, who cured the horse's foot problems by galloping hom in the sea.
Red Rum went on to win the race three times, 1973, 1974 and 1977; a feat that no other horse has achieved, although Tiger Roll won twice in 2018 and 2019.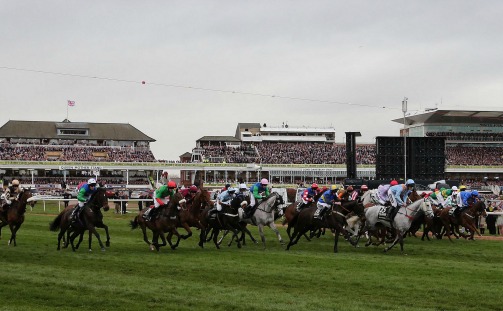 Start of Grand National
2. National Hunt Trainers horseracing betting systems
Nicky Henderson should be followed when introducing horses to the racecourse priced 9/1 or less.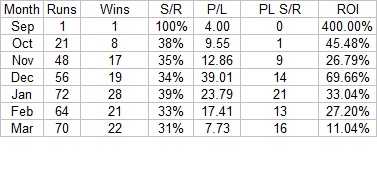 The quality of Nicky Henderson's debutants is exceptional, especially his hurdlers. There have been 9 winners from 24 runners for a 181% return. 8 of 18 runners in novice races won for a 237% return of which the hurdlers won 6 from 15 runners for a 252% return.
NB only 1 winner of 9 runners with a SP greater then 9/1

All Weather Winners System

This horseracing betting system for backing favourites on the all weather racecourses in the UK is devised by Michael Carr.
Since 2010 there have been 943 bets of which 343 were winners for 38.49% strike rate. This represents, at level stakes, a 97 points profit at SP or 118 points profit at Betfair SP.
Rules:
Back the favourite in class 5 races or lower
Must have the highest Official Rating (OR)

Exclude 2 year olds
Back only males (no fillies or mares)

The horse must be racing within 1 class of its last race which must have been a handicap race.
The following racecourses qualify
Lingfield Park, Kempton Park, Southwell, Wolverhampton, Dundalk
A.I. Gaming Systems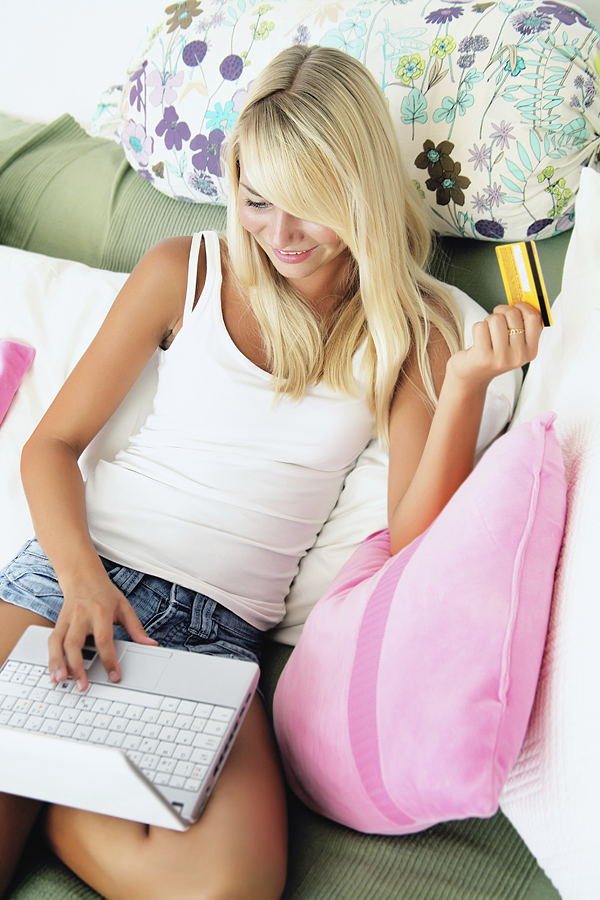 Entering data for A.I. Gaming Systems
A system could allow punters to enter their tip as to the winner of a selected horse race.
To do this, a form would show the list of runners with the jockey and all that would be required is for participants to select the horse they consider the likeliest winner.  They should also be able to return to the same race to edit the response if they change their mind.
One company, Swarm Insight, combines the power of A.I. with real time consumer feedback which provides much better and faster insights than focus groups could achieve.
Gaming Systems Need Your Vote

The swarm analogy is derived from real life swarms that occur in nature which converge on the best solutions to a problem with remarkable efficiency. 
This method has been shown to be more accurate and revealing than traditional polls or surveys.
In a Swarm A.I. System we can leverage the insights and knowledge of all the users who enter their prediction on a web form provided for each day's race. The results and behaviour of all participants is used to predict the outcome of the race.
ARTIFICIAL INTELLIGENCE TURNS $20 INTO $11,000 IN KENTUCKY DERBY BET
An artificial intelligence platform has been used to predict the winners of the Oscars, the Super Bowl and now the winner and first 4 home in the Kentucky Derby.
The system known as UNU predicted the 1st, (Nyquist) 2nd, 3rd and 4th horses to finish in the 2016 running of the race. A $20 bet placed on the Superfecta (first 4 home in the correct order) produced a win amount of $11,000.
The gaming system uses a form of swarm intelligence that  amplifies human intelligence. All participants give their selection of the event eventually resulting in a consensus of opinion.
Return to Betting Systems from Horseracing Betting Systems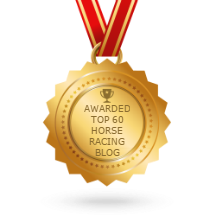 Returns Policy: Once a customer has agreed to pay for a product or service no returns will be permitted or payments returned.
All PayPal transactions are subject to the PayPal Privacy Policy
Privacy Policy: Personal details provided to this site by an individual may be shared with third parties unless requested otherwise.
Above policies updated 15 March 2018