Free Racing Tips
If you have found this site useful and enjoy an ad free site, please feel free to make a small donation to help maintain and improve our service. Thank you, Chris.

Free Racing Tips fully proofed will give you confidence that your hard earned cash will get the best chance of earning a good return on your investment.
Sign up with our trusted partners  Free Racing Tips whom we have worked closely with for many years.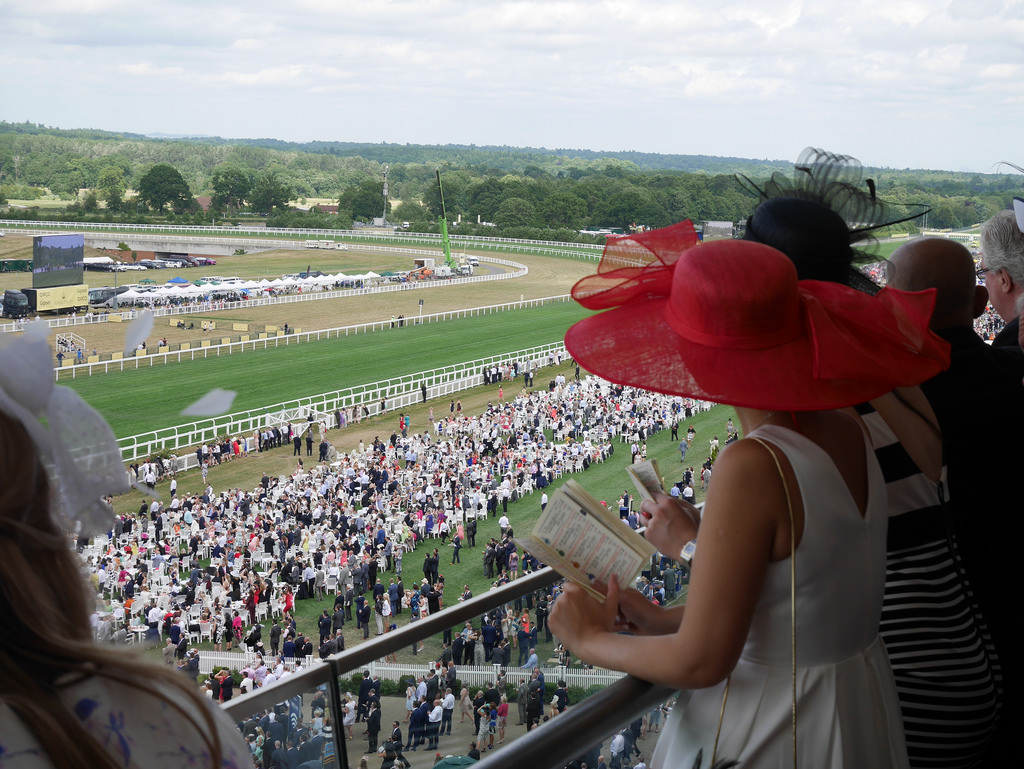 Ascot Racecourse
Today's Free Racing Tips 
Latest News
Free Racing Tips For 19 April 2021
For the next 24 hours, if you sign up to the DAILY Lucky 15, you'll also receive a BONUS Lucky 15 for the Royal Ascot AND Glorious Goodwood festival.

So, you've got until this time tomorrow to get on board the Lucky 15 rollercoaster and snag the bonus!

Remember, when you sign up, you'll get your first 3 months for the price of 1 – just £10.
 
Click here to join up and secure your bonus now!
 
Cheers,
 
Mel
The Bonus Bringer at FRT Towers

Aaaand it's time to reveal your next tipster!

Meet Gary, who runs his own betting service nicely titled 'The Bookies Enemy'.

A quick Google search will bring up plenty of positive reviews and praise for Gary, and he's been beating the bookies for the past 30 years and has built up a solid reputation because of it.

You can find his full results right here.

"I focus solely on finding value (and profit), so it's incredibly rare you'll see me backing anything in the top 3. But it's an approach that's working – that's for sure."

Gary's very thorough with his selections and you'll be pleased to hear he always provides a full analysis for each and every tip, so you know exactly why he's picked them.

We're very glad to welcome him to the FRT community and can't wait to start bringing you his tips!

Cheers,

Mel
Head of the Welcoming Committee at FRT Towers

I hope you enjoyed your weekend and managed to catch some of the Sun over in a beer garden. Is it too early to be looking forward to next weekend already? ;)

Overall we had a fair weekend with a couple of nice winners on Saturday, including the Premium Tip WORDSWORTH who is sure to appreciate further as the season progresses and could be aimed at the Dante before contesting the Derby. 

If you want to come join our other 2,572 members in getting the Premium Tip for FREE - just click here!
Now, this week marks Keith's last with us! Come Wednesday, he'll be heading off into semi-retirement to work on his book - after that, our new tipsters will take the reins!

TODAY'S LITTLE BEAUTY
TEESCOMPONENTS LAD 15:22 Hexham 7/1 each way – Had an off day when well beaten at Ayr last month and is fully expected to bounce back.
Free Racing Tips For 17 April 2021

It's time to meet your next pro tipster joining the FRT club!

Next up, we have Ronan, who's been working as a full-time professional horse racing tipster since 2019.

Once again, he's got some impressive results to his name, and a solid 36.51% strike rate.

Click here to see Ronan's full results for yourself.

If you're a fan of the thoroughly researched, analytical approach to tipping - Ronan is your guy.

"I'm not one of those tipsters who simply picks an in-form horse or sticks a pin in a racing card and crosses his fingers. Every one of my selections has come through my extensive research."

And he's deadly serious about his research. His process includes poring over...
Trip handicapping
Developing trainer profiles
Understanding types of form cycles including biorhythmic sequences and seasonal patterns
Pace and speed mapping analysis
Creating accurate tissue prices
Statistical modelling using neural networks
Non-static and mimic data
Developing genome ratings based on CC, CT and TT output
And MORE!
Phew!

There's a lot of words in there I don't understand, but hopefully it makes sense to you, Chris.

But if they don't, then don't worry, you can just leave it to Ronan.

Cheers,

Mel
Head of the Welcoming Committee at FRT Towers
Free Racing Tips For 16 April 2021
It's time to meet your first tipster joining the team.

Let me introduce you to Quentin Franks!

He's been a professional horse racing tipster since 2014 and has over two decades of experience betting on the horses.

Right now, he runs his own daily morning and evening service over at Betting Gods, but he'll soon be lending his tips and expertise to the FRT community too!

Since he started tipping professionally, he's logged every one of his results, and it's safe to say they speak for themselves...

Click here to see his full results for yourself.

Quentin is one of many more tipsters who'll be joining the FRT family, and over the next few weeks you can expect to meet all of them.

If you want to check out Quentin's personal services and learn a little more about him, you can find him here.

Cheers,

Mel
Head of the Welcoming Committee at FRT Towers

So, as everyone knows by now, Keith is leaving us here at FRT Towers.

He's gradually been packing his things from around the office in preparation for his departure on the 21st of April.

We'll be sad to see him go, that's for sure! But we have to keep looking ahead, Chris...

And the future is bright!

Our team of horse racing tipsters is just about fully assembled, and we're ready to start introducing them. But first, I wanted to answer the question: "how are the tips going to change going forwards?"

And the answer is, they aren't going to change. You'll still have the...
Little Beauty
Premium Tip
Daily Lucky 15
And ITV Racing tips
The only thing different this time is that, rather than Keith picking them, we'll have our panel of tipsters here to decide on the best selections every day for each one of the services.

Some days it might be a little like 12 Angry Men over here at FRT Towers, but I can assure you, you'll still get the tips sent well before 10am. And they'll have the majority backing from ALL our tipsters.

I can also reveal that you'll be getting more FREE tips each day!

This is, after all, Free Racing Tips - so we're living up to the name.

Each one of our tipsters will get a chance in the spotlight for their daily picks in the shape of FREE bonus tips - we'll be rotating them based on their recent form.

And our 'Next Best' tip will be returning (our second best bet of the day after the Premium Tip) for Premium Tip members and above.

So, there really are a lot of exciting things coming up, and it all kicks off next Wednesday!

Throughout the coming days and weeks, I'll introduce you to each one of our new tipsters. There's a few to get through, but I want you to know the full credentials for each and every one.

The first will be introduced later today - so stay tuned.

Cheers,

Mel
The Bringer of New Things at FRT Towers
It's Friday! And the beer gardens are open! I hope the weather holds out for you and you get to enjoy your first proper weekend while it's back to some normality.

To quickly recap on yesterday, there wasn't much that went our way - we did have a solitary winner yesterday in our the last leg of the Lucky 15 though; ROYAL ADVICE went in at odds on having being evens on the early show - but at least we won somewhere.

I was feeling hopeful the free Premium Tip I gave away might've won so I could get you signing up for today's, but it didn't. I'll still promote today's Premium Tip anyway though - you can get it for free when you open a bookie account with any of our partners. Click here if you want to do that - it'd only take you a couple of minutes tops.

Now the weekend is almost here, so let's hopefully earn ourselves some beer funds!

TODAY'S LITTLE BEAUTY
WOJOOD 16:55 Ballinrobe 9/1 each way – Returns to hurdles after a spell on the All-Weather. Has been placed on both hurdle starts to date. Trip and going are favourable
Free Racing Tips For 15 April 2021

Despite the Premium Tip pulling up and the Little Beauty weakening out of contention in the final furlong, we enjoyed a some success over on the Lucky 15 thanks to RANSOM (5/2) and FINAL FANTASY (4/1) both winning!

For those of you that like the Lucky 15, you could say we had a "Bon Jovi" (half way there ;) ) and bagged a decent 11 points profit to give us all some beer money for the weekend.

If you want to come join our 391 Lucky 15 members with the daily ACCA, right now you can get your first 3 months membership for just a tenner! Click here to grab the offer and join in.

TODAY'S PREMIUM TIP

Here's today's Premium Tip for free - I'm feeling generous!
MAYTAL 17:25 Newcastle 11/10 –  Ran a bit free in the early part of the race on sole 2 year old start but over came the greenness to keep on for third. This well-bred filly is the type to make a much better 3 year old and she holds an Oaks entry. Top yard is flying this season so far.

TODAY'S LITTLE BEAUTY
ROHAAN 13:50 Newmarket 7/1 each-way – Fit from an excellent All-Weather campaign which has produced 4 wins and 2 places in 8 runs. Excellent chance if transferring that form to turf. Ryan Moore takes the ride.
Free Racing Tips For 14 April 2021

While the Premium Tip didn't continue its excellent run, we still enjoyed a decent day yesterday. The Little Beauty OH THIS IS US was just a head away from victory, but it was still a nice place return at 14/1. And over in the Lucky 15, the runner CORDOUAN was an impressive winner - might be one to go in the tracker!
We've got some quality racing from Newmarket and Cheltenham on ITV4 today, and there'll be more ITV racing tomorrow and Sunday to get us through the week.

TODAY'S LITTLE BEAUTY
VENTURA DIAMOND 15:35 Newmarket 12/1 each way – A competitive renewal of the Nell Gwyn and some of these will be 1000 Guineas bound. Group 3 winner SAFFRON BEACH sets a good standard but is vulnerable to an improver so in the quest for a bit of each way value I am turning to VENTURA DIAMOND who kept on well to win a heavy going listed race here in October and will be suited by the much better going and longer trip.
Free Racing Tips For 13 April 2021
We've had our first 10 signups now (a little bit more, actually!), and so that's all the mugs gone!
 
But don't worry, the 3 months membership for £10 offer still stands until April 23rd at 6pm.

If you want to learn any more about how the Lucky 15 bet works or what it is, I'd recommend checking out our info page on it here:

www.freeracingtips.co.uk/lucky-15-tips

And if you have any questions about it at all, just hit reply and let me know. I'd be happy to help.

Cheers,

Mel
Here to Help at FRT Towers

I hope you had a good start to the week - the pubs were back open and we hit another Premium Tip winner!

ARTISAN BLUE (11/8 > 10/11) kept the momentum going for the Premium Tips in April making it four winners from nine for the month so far.

Unfortunately that was the only time we troubled the bookmakers yesterday as the Little Beauty ended up a non-runner. But we go again today!

TODAY'S LITTLE BEAUTY
OH THIS IS US 14:45 Newmarket 12/1 each way – Enjoyed a fair Autumn campaign on the all weather but not seen to best effect this spring after a break. This course and distance winner is on a fair mark now switched back to turf and a big run expected at decent odds.
Free Racing Tips For 12 April 2021

It's finally Monday, Chris! I'm not usually this excited for the start of a new week, but today means the pubs are back open!  

I don't know about you, but I'll certainly be enjoying a pint or two later on today. Anyway, let's not get too distracted here. On to the tips...

Premium Tip MY DROGO was the star of the Saturday tips, securing us a nice win at 7/4. We also endured two non-runners on the Lucky 15, but thanks to the win, it still returned us the majority of our stake back.

You can get lifetime access to the Premium Tips for FREE - click here to find out how.

TODAY'S LITTLE BEAUTY
BEYOND EQUAL 15:40 Windsor 17/2 each way – Went close at Kempton in November when last seen. Is better on turf and has run well fresh in the past, big each way shout.
Free Racing Tips For 10 April 2021

We could only settle for third place in the Grand National on the FRT Tips but our sister site, Form Ratings, picked out the 11/1 Grand National Winner - MINELLA TIMES!
Silver members of Form Ratings were highlighted to Minella Times on the day's racecards of the potential and Gold members were handed it on a plate as part of the Smart Daily Selections.

If you love data and finding those potential winners, our Form Ratings data will be right up your street.

Find out more on how to crunch those numbers and join Form Ratings.
Yesterday
Despite a winner courtesy of CHANTRY HOUSE and a third place for OSCAR ELITE,  it turns out the Aintree festival has been hard going for us...
And on Grand National Day, it definitely won't be getting easier to find a winner. It's impossible to pick just one in that melee, so whoever you go with, good luck today!

CLICK HERE FOR THE SATURDAY LUCKY 15, you'll find it in the box with the Little Beauty.

TODAY'S LITTLE BEAUTY
ISKABEG LANE 13:53 Newcastle 16/1 each way – Frustrating type who has been crying out for better going, well he gets it today and he runs off a mark 24lb below his last win.

Free Racing Tips For 09 April 2021

Well, it wasn't the start to the festival we were hoping for yesterday. The best we could muster was second place on three occasions, and the only return came from CLONDAW CASTLE. To be fair, out of our 7 runners, only GAELIK COAST ran particularly badly. It was just one of those days where the pieces didn't fall into place. 

But the festival is far from over, and the high standard of racing continues today. Let's see what we can do!

TODAY'S LITTLE BEAUTY
WILDE ABOUT OSCAR 13:45 Aintree 8/1 each way – Steady improver who is 4 from 5 over hurdles, the only blip came at Newbury in December when he pulled up quickly after a bad mistake.

Free Racing Tips For 08 April 2021

Wednesday's racing went pretty much the same way as Tuesdays. The Little Beauty unfortunately ended up a non runner, and two of our selections ran poorly and EMERALD FOX came like a train and only just failed to get up - I'd put that one in your notebook!

Today is the start of the Aintree festival though, and the quality of racing is massively improved. I know Keith is expecting a good day today, so let's get started!

TODAY'S LITTLE BEAUTY
GAELIK COAST 16:40 Aintree 20/1 each way – The betting is 8/1 bar one and that makes it a good opportunity to land a nice each way at a decent price. GAELIK COAST is still relatively unexposed over fences and has won twice and made the places twice in just 5 runs. Another big run expected despite the step up in class.
Free Racing Tips For 06 April 2021

Easter Monday's racing did us proud. Everyone's favourite racehorse went and did it again! Our wonderful 80/1 winner from Cheltenham JEFF KIDDER only went and scored for us again, although this time at the much milder odds of 5/1... 

And that wasn't the only winner Monday's racing brought us. On ITV4, despite a couple of non-runners reducing us to 7 bets, LAVENDERS BLUE went in for us and won too.
On the other bets we had one winner, BREWERS PROJECT, two non-runners, and the Little Beauty BEAR ME IN MIND clipped the heels of the horse in front and fell. Flat falls are never pretty and so I was just glad to see both horse and jockey walk away from the incident and hope neither of them suffered any injuries.

Now we're back down to just the PT and LB for a couple of days until the Grand National festival on Thursday!

TODAY'S LITTLE BEAUTY
TUKHOOM 16:35 Pontefract 8/1 each way – Course and distance winner. Returns to turf on a lenient handicap mark after not shining an the All-Weather over the winter but as he is 0 from 15 on sand do not read to much into that.

Free Racing Tips For 05 April 2021

TODAY'S PREMIUM TIP

(Since Saturday's one, here's today's Premium Tip for free!)
BEACON EDGE 15:50 Fairyhouse 7/4 –  Steady improver over hurdles winning 3 of his last 6. Best run of his career came at Cheltenham last time when fourth in the Stayers Hurdle. This is easier and there should be enough early pace to set it up for him.

TODAY'S LITTLE BEAUTY
BEAR ME IN MIND 14:15 Redcar 11/1 – Three wins from 5 runs since joining this yard including over course and distance. Not suited by heavy going when last seen. Can make a winning reappearance.
Free Racing Tips For 03 April 2021

Good Friday was a mixed day fortune wise. We landed a Premium Tip winner, the well-backed BANGKOK simply oozed class, and INDIGO JONES won nicely for us too...

The ITV Racing was more miss than hit, BANGKOK as mentioned won and so did the odds-on shot MEGALLON. We also had a small return from EXALTED ANGEL who finished runner up, and we had a couple more seconds at shorter odds, but 5 of the ten got a big fat L against their name.

There's more ITV action today though, so hopefully we can improve.

CLICK HERE FOR THE SATURDAY LUCKY 15, you'll find it in the box with the Little Beauty.

TODAY'S LITTLE BEAUTY
BANKS BOY 13:15 Fairyhouse 15/2 – Credible third on debut at Thurles shaping up as though he wanted further. Will improve for the run and this extra half mile should be ideal.
Free Racing Tips For 02 April 2021

It seems April Fool's Day got us good and proper, our five tips all floundered! We had two pulled up, two placed and one out and out loser. Not exactly a perfect start to the month, but at least it shouldn't take us much to improve on...
And we've got a very busy Good Friday today which should give us plenty of opportunity. There's the All Weather Championships at Lingfield and a supporting card from Newcastle giving us a total of 10 races on ITV 4 to sink our teeth into.

TODAY'S LITTLE BEAUTY

FIZZY FEET 14:35 Lingfield 11/2 – Course winner who has been shaping up as though this step up in trip will be ideal. Will take some pegging back if getting an early lead.
Free Racing Tips For 01 April 2021

Last week we had an impressive four Premium Tip winners, but it seems our good form hadn't carried over into this week yet...

We started the yesterday off with a non-runner (yes, another one!) and both the Premium Tip ROCKSTAR RONNIE and the Little Beauty FRIGHTENED RABBIT came second (a small return on the LB). 

Both those ran on the Lucky 15 too, and if they'd done slightly better, we'd have been knocking on the door of a full house since the final runner MAY NIGHT (ADV 3/1) put us back in the black for the day with a win.

TODAY'S LITTLE BEAUTY

MISS MAHMITE 17:10 Ffos Las 14/1 each way – Making a 654 Mile Round Trip from North Yorkshire today. Best form is all on going on the good side of soft so the run at Kelso last time can be ignored. Harry Cobden is an interesting Jockey booking.

Free Racing Tips For 30 March 2021


Our Little Beauty, WHATTHE BUTLERSAW (14/1) finished third, but three non-runners meant our place money was stolen as most bookmakers only paid on the first two home.

Although it wasn't all bad... two of the selections on the Lucky 15 both won, and the Premium Tip came close, but could only manage second.

We've had a string of Premium Tip winners recently though, so hopefully there's still plenty more to come to keep the pattern going!

TODAY'S LITTLE BEAUTY

BON RETOUR 14:35 Newcastle 25/1 each way – Only win came when with Willie Mullins in Ireland and that was the only previous time she had encountered this type of ground. She can outrun her odds with conditions to suit.

ps. Don't forget, you can join in with the Premium Tips for free anytime - just click here to unlock free lifetime access!

Free Racing Tips For 29 March 2021

We've picked up some momentum on the Premium Tips now with yet another winner from Saturday. That makes it 5 winners from the last 8!

LORD NORTH made smooth progress in the last three furlongs and took the race by the scruff of the neck 1½ furlongs out running on well for an easy victory. 

Then for our VIP members, we had a bit of fun on the ITV Racing which gave us 2 winners and 3 placed horses. Two of them were advised each way, so we wiped our face there if playing to 1pt win or 0.5pts e/w as advised.

TODAY'S LITTLE BEAUTY

WHATTHEBUTLERSAW 16:10 Fontwell 10/1 each way – Course and distance winner on only previous visit to this venue. Going conditions are ideal. Big chance off his lowest handicap mark for 3 years.

ps. If you want to get on those Premium Tips while they're still hot, you can get lifetime access for FREE - just click here to find out how.

Free Racing Tips For 27 March 2021
In a slowly run race that culminated in a sprint to the line our Inner Circle horse INVITE was caught late on and finished second by ½ length.

The day wasn't all doom and gloom though as the Premium Tip BETRAYED 11/4 stayed on well to get up on the line.

After a slow start to March the Premium Tips are getting back on track and are now ahead for the month with 4 of the last 7 winning!

TODAY'S LITTLE BEAUTY
DANDY DAN 13:35 Kelso 6/1 each way – Course and distance winner who returns here on a good mark. Excuses when not performing over hurdles last time. Will not be far away now back chasing with conditions to suit.

TODAY'S LUCKY 15
ARTHUR'S REALM 13:15 Kempton 15/8 – Progressive in three runs on turf and will be difficult to beat if transferring that form to the artificial surface.
PROVOCATEUSE 13:50 Navan 13/8 – Placed on all 3 starts and this return to the minimum trip will be ideal.
LORD NORTH 15:30 Meydan 7/4 – Group 1 winner at Royal Ascot. Clear pick on form. This race has been the target for some time.
DEVISES 17:05 Kempton 4/1 – Has notched up a hattrick of wins this year and 4lb rise in the weights after the latest seems manageable.
Free Racing Tips For 26 March 2021

We were hindered by a non-runner yesterday, and not much else went our way either. The best of the bunch was Fierami (5/1) on the Lucky 15, who was in contention when slightly impeded by the winner just before the last hurdle and was unable to gain back the advantage on the run in.

Now today we've got some racing from Dundalk to entertain us in the evening with our first runner SOARING SKY saddling up at 18:30...

And since last Friday we hit a big 3 winners on the Lucky 15, here's today's daily one for free if you want to back it! 

TODAY'S LITTLE BEAUTY

SOARING SKY 18:30 Dundalk 7/1 each way – Beat a useful horse when winning over course and distance on debut, that form has been franked by the second winning comfortably since. Expected improvement puts her right in the mix for this.

TODAY'S LUCKY 15
INVITE 14:15 Lingfield 4/1– Had a bit in hand when winning over 7 furlongs here in October on debut and is likely to be even better over this longer trip.
PALOISE 15:25 Lingfield 5/1 – Steadily improving since joining this yard from Ireland. Quietly fancied to get home in front today.
SOARING SKY 18:30 Dundalk 7/1 – Beat a useful horse when winning over course and distance on debut, that form has been franked by the second winning comfortably since. Expected improvement puts her right in the mix for this.
BETRAYED 20:00 Dundalk 9/4 – Won easier than the winning distance suggested when stepped up to 6 furlongs last time, can progress again.

Free Racing Tips For 25 March 2021

Our runners today are featuring phrases from Spanish and Italy, but I'll stick with English for this...

We were onto another Premium Tip winner yesterday to make it two wins from three for the week so far. We're not quite on a winning streak yet, but today we could make it happen!

Since we won again yesterday, you can have another Premium Tip for free today Chris ;)

And you can always unlock the Premium Tips for FREE forever by opening a partner bookie account here.

TODAY'S PREMIUM TIP

EL PRESENTE 15:15 Ludlow 11/8 – Progressive chaser who has won 4 of his last 5 including a Listed handicap when last seen. Goes well fresh and is expected to enjoy another fruitful campaign.

TODAY'S LITTLE BEAUTY

CIAO BELLA 16:35 Cork 12/1 each way – Kept on well to win her maiden at Fairyhouse last time, in fist time cheek-pieces. Makes handicap debut on a fair mark and can make her presence felt with headgear retained.

Free Racing Tips For 24 March 2021

We started yesterday off strong with a 5/1 winner on the Lucky 15, but following that, none of our other riders managed to get close to doing the same. It's certainly been a bit of a change of pace from last week!

And speaking of last week, I thought I'd share this with you...

Our FRT team had their own little competition to see who could land the biggest return from a £1 each-way bet on every race at the festival, and here's how it went:

1. Keith - (it's no surprise really) finishing with pot of £118.43 

2. Lee - Our footy tipster who was only £32.90 behind Keith! 

3. Me!

4. Jason - His super NAP was always just around the corner...

5. Sian - The incredible comp organiser and newest team member looking to make a name for herself!

6. John - Whose favourite name strategy didn't quite pay off...

7. Luke - Who was just £76.63 shy of Keith!

Anyway, let's just say there's a reason why we leave the tips up to Keith...

TODAY'S LITTLE BEAUTY

THEGALLANANTWAY 16:05 Market Rasen 16/1 each way – Returns to hurdles after not really progressing over fences. On a fair mark, trip and ground are ideal.

Free Racing Tips For 23 March 2021

Premium Tip EAGLEHILL managed to get up comfortably in the end despite being hampered in the closing stages...

You know it's going to be a good week when we start off with a Premium Tip win - and you got it for FREE too! 

If you want to keep getting Keith's Premium Tip free forever, all you have to do is open a bookie account with any of our partners and you'll get it every single day. Click here to go and do it.

TODAY'S LITTLE BEAUTY

MAKETY 15:47 Taunton 16/1 each way – Lightly raced gelding who had some decent placed form when in the care of Oliver Sherwood. Clearly needed the run last time on debut for new connections, will strip fitter for the run and better going will suit.

Free Racing Tips For 22 March 2021
What a thrilling week that was, I trust you enjoyed it as much as I did? And I don't know about you, but I'm already excited for next year's Cheltenham!

Saturday's racing was very entertaining to say the least... we hit the woodwork on no less than 7 occasions without managing to grab an elusive winner. And by far the highlight was our Little Beauty, MIGHTY THUNDER (18/1), who just failed to get home in the Midlands Grand National. He'll be a stalwart in the marathon division for years to come. 

Now we return to some normality, but we still have plenty of excitement just around the corner. It won't be long before we're gearing up again for the Aintree festival next month. 

And we've got a few things lined up to help ease those Cheltenham blues... starting off with a free Premium Tip!

TODAY'S PREMIUM TIP

EAGLEHILL 15:18 Plumpton 11/10 – Won without breaking sweat at Taunton last time, comfortably without being asked to many questions. Better going today will suit and a repeat is on the cards.

TODAY'S LITTLE BEAUTY

GLOBAL FAMENGLORY 13:30 Southwell 6/1 each way – Looked promising at Uttoxeter on debut before getting bogged down in a soft ground listed race at Huntingdon. Will do much better today.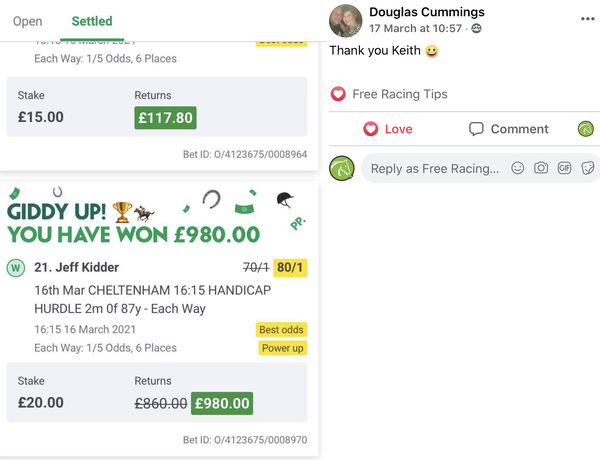 Betting Slip for tipped winner Jeff Kidder
21 March 2021

MIGHTY THUNDER 15:35 Uttoxeter 18/1 each way – Has been a revelation since switching to fences and is now 3/4 in chases including the Edinburgh National last time. Stays forever and will relish these conditions.
Sign up for more daily - Free Racing Tips
What a festival! It was undoubtedly our best one yet, and it's mostly thanks to the 80/1 JEFF KIDDER who stormed home on Day One to see us all set for the rest of the week.

At the end of it, we finished the festival +42 points up.

Then to top it off, Keith landed 3 winners on yesterday's Lucky 15 to return 72 points profit! 

Now we've got the free Saturday Lucky 15 to get us all stuck well back into it. Can Keith land another big win today? And after that, we've got a few things up our sleeve for next week to help put the Cheltenham blues at ease...

CLICK HERE FOR THE SATURDAY LUCKY 15, you'll find it in the box with the Little Beauty.