Events at Aintree Racecourse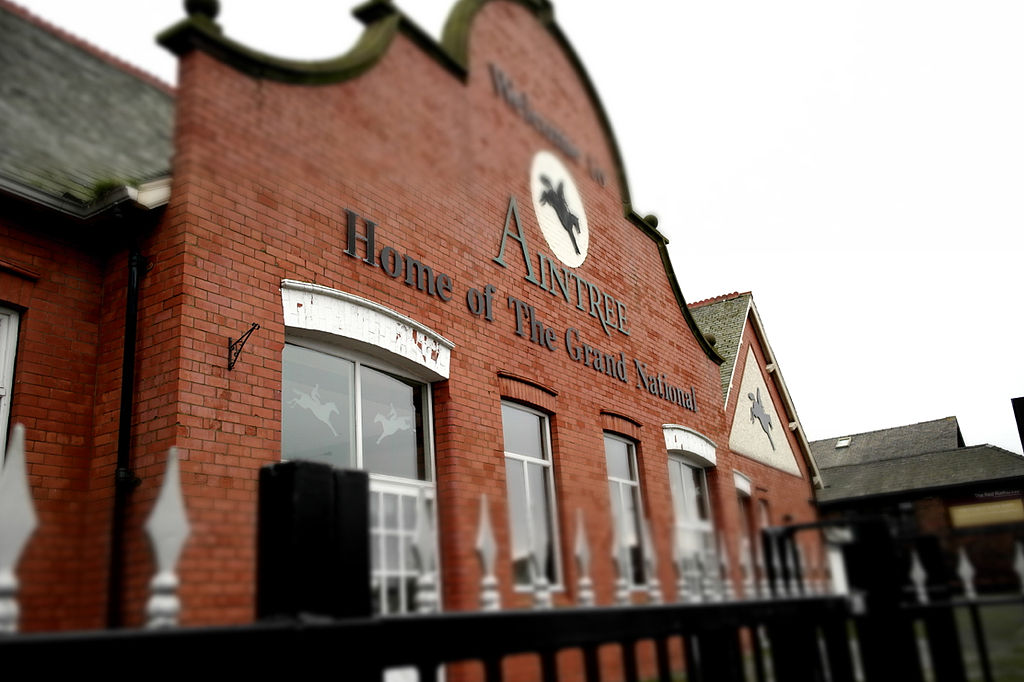 Events at Aintree Racecourse start here
Aintree Racecourse, located in the heart of Merseyside, is a hallowed ground for horse racing enthusiasts and renowned for its legendary history and thrilling races.
Join with me on my journey to Aintree to uncover its exceptional amenities, unique course characteristics, principal races, and the fascinating facts, figures, and trends that make it a magnetic attraction for racegoers.
Amenities: A Racing Paradise
Aintree Racecourse has established itself as a sanctuary for racegoers, offering a multitude of amenities that elevate the racing experience. Whether you're a casual observer or a fervent enthusiast, Aintree has something to cater to your every desire.
Fine dining enthusiasts can revel in the luxury of the Princess Royal Restaurant, serving up exquisite cuisine alongside stunning panoramic views of the racecourse and final circuit.
For those who prefer a more laid-back dining experience, the Golden Miller Restaurant, on the third floor of the Earl of Derby grandstand provides a variety of delectable options, ensuring no palate goes unsatisfied.
This racecourse boasts a vibrant atmosphere with numerous bars and "pop-up" food outlets along with live music and betting facilities. The Embankment is an outdoor enclosure which boasts one of the longest temporary bars in Europe at 100m. Racegoers can savor their libations while basking in the racing action. 
For those seeking a more private and exclusive experience, Aintree presents a range of private boxes and suites, ideal for corporate events, intimate gatherings, and special celebrations. These hospitality options offer a superior experience, complete with dedicated service and unbeatable views of the track.
Events At Aintree Racecourse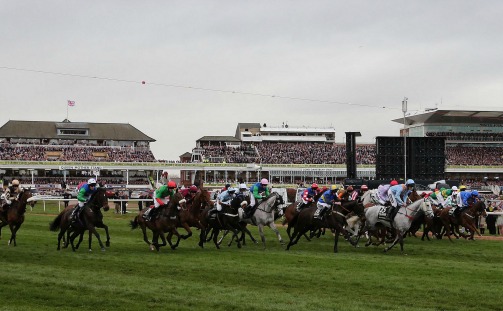 Grand National start
Principal Races: Racing's Pinnacle
Aintree Racecourse boasts a stellar lineup of premier races that consistently draw top-tier horses, trainers, and jockeys.
The most illustrious of events at Aintree Racecourse is the three day festival in April, currently sponsored by Randox Health, the highlight of which is the Grand National Chase, a Grade 3 handicap chase that unfailingly captivates thousands of racing fans worldwide.
In fact it is estimated that the race is viewed by 10 million people in the UK and something like 100 million globally.
The 2011 renewal was memorably clinched by Ballabriggs, trained by Donald McCain Jr, with a remarkable purse of £535,135.
It's noteworthy that Donald McCain's father, "Ginger" McCain, trained the race's most iconic horse, Red Rum. Red Rum made history with an unprecedented three victories in 1973, 1974, and 1977, in addition to being a runner-up in 1975 and 1976.
Red Rum's legacy is forever etched in the annals of horse racing, embodying the spirit and heart of the Grand National.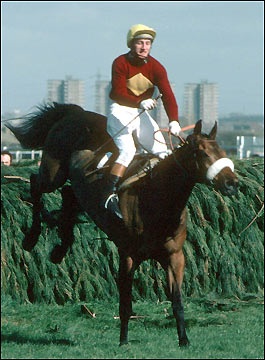 Red Rum
The racing also includes 4 Grade One jumps contests, the highlight being the Betway Bowl over 3m 1f of the Mildmay course and the Aintree Hurdle. Past winners of the Betway Bowl include Wayward Lad, Desert Orchid, See More Business, Florida Pearl, Siliviniaco Conti and Cue Card.
Course Characteristics: Unparalleled Challenge
Aintree Racecourse stands apart with its distinct course characteristics. The racecourse features a left-handed, galloping course, renowned for its demanding jumps, with few undulations, and the famous Aintree Canal Turn.
The Grand National course is a remarkable 4 miles and 2 1/2 furlongs long, with competitors navigating 16 challenging fences of which 14 are jumped twice over two circuits.
Two fences that stand out as particularly challenging are Becher's Brook and The Chair. These have long been synonymous with the Grand National's unique challenges. While the racecourse authorities have implemented numerous safety measures over the years, these iconic jumps still test the mettle of the world's finest jump jockeys and their equine partners.
A point of historical interest is that the inaugural running of the Grand National in 1839 required horses to leave the racecourse and venture into open countryside. There, they would leap gates, hedges, and ditches they encountered on the way, before returning to tackle the course's length and repeat the exercise.
Beyond horse racing, the Aintree Racecourse serves as a versatile venue, hosting a variety of events throughout the year.
From weddings and conferences to concerts and exhibitions, the racecourse's facilities can be adapted to accommodate a diverse range of occasions, making it an in-demand location for all types of gatherings.
It also features a 30 Bay Floodlit Driving Range and a 9 hole golf course in the centre of the track.
Grand National Spectators
Aintree Racecourse has carved its name in racing history with a blend of tradition and excellence. Here are some noteworthy facts and figures about the racecourse:
Historical Legacy: Aintree has been a pillar of British racing since its inception, offering over a century of spectacular racing experiences. Its Grand National is one of the most iconic races worldwide.
Demanding Course: The challenging course, punctuated by iconic jumps like Becher's Brook and The Chair, has been a rite of passage for the world's elite jump jockeys and their gallant steeds.
Legendary Winners: Aintree has been the stage for countless legendary moments in racing. The likes of Red Rum have become immortalized, leaving an indelible mark on the course's storied history.
Thrilling Atmosphere: The electrifying atmosphere of the Grand National, the world's most famous steeplechase, attracts racing enthusiasts from far and wide. The unpredictability and drama of the race create a unique and captivating experience.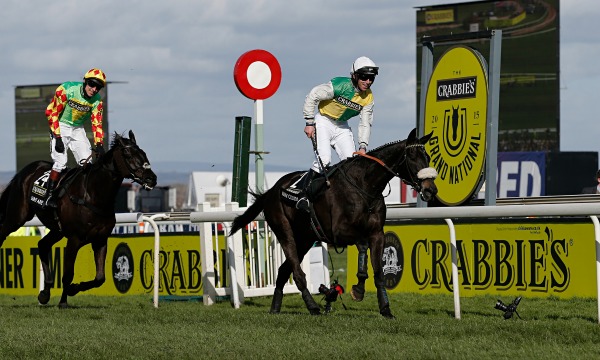 Grand National Winner
In the realm of top trends in horse racing, Aintree often provides key insights into the form and potential of horses, trainers, and jockeys. The course's demanding nature and legendary jumps play a pivotal role in shaping these trends:
Jockey Prowess: Aintree's unique course necessitates jockeys to be skilled in navigating challenging jumps. Certain jockeys may excel on this course due to their riding style and ability to adapt to the demands.
Trainer Success: Trainers who consistently triumph at Aintree often possess a deep understanding of the course's unique challenges. Their training strategies and horse selections are tailored to navigate the formidable obstacles.
Horse Adaptability: Some horses thrive on Aintree's distinct course. Their ability to handle the challenging jumps and the speed with which it is necessary to negotiate them is a key indicator of potential success in this prestigious racing environment.
In conclusion, Aintree Racecourse is a hallmark of horse racing excellence, offering a lavish experience, a unique course that presents the ultimate challenge, and a rich history of top-class racing.
With marquee events like the Grand National and the Aintree Hurdle, it continually attracts the finest horses, trainers, and jockeys in the sport. Its storied past and the valuable insights it provides for horse racing trends make it an indispensable destination for any racing aficionado.
Whether you're a passionate racing enthusiast or a casual racegoer, Aintree Racecourse promises an unforgettable experience at the pinnacle of British horse racing.
Return To Racecourses from Events At Aintree Racecourse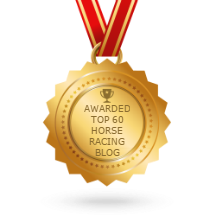 Returns Policy: Once a customer has agreed to pay for a product or service no returns will be permitted or payments returned.
All PayPal transactions are subject to the PayPal Privacy Policy
Privacy Policy: Personal details provided to this site by an individual may be shared with third parties unless requested otherwise.
Above policies updated 15 March 2018