A guide to Royal Ascot 2013 week with analysis and tips for this prestigious event
If you have found this site useful and enjoy an ad free site, please feel free to make a small donation to help maintain and improve our service. Thank you, Chris.

At Royal Ascot 2013 discover the latest Fashion Trends and Beauty Tips that everyone is using.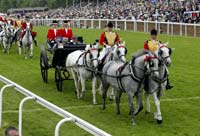 Royal Ascot 2013 Trends
Australian sprinters have an excellent record at Royal Ascot and Danny O'Brien's Shamexpress could well swell the ranks of Australian winners such as Choisir, Takeover Target, Miss Andretti, Scenic Blast, Starspangled Banner and Black Caviar.

The 3yo will contest the Kings Stand Stakes on June 18 after a sparkling display to win at Flemington on Friday.


Tip of the Ascot 2013 meeting:
Back 3yo's in Group 1 races whose prices shorten 2 percentage points on the day of their race.
Royal Ascot 2013 Tuesday 18/06/2013 2.20 Queen Anne Stakes
Trends 9 of last 10 winners had won a Group 1
Farrh has been withdrawn from this race which leaves Animal Kingdom a very strong favourite
Others who fit the trends are Cityscape and Giofra while Aljamaaheer could run into a place at a decent price
Selection to win Animal Kingdom
Selection to place Aljamaaheer
Tuesday 18/06/2013 3.05 Kings Stand Stakes
Trends: Overseas runners have a fine record
The two overseas runners likely to turn up are the South African Shea Shea and Australian Shamexpress
The Australians have an excellent record at Royal Ascot and Shamexpress could be the value bet
Of the home runners Kingsgate Native and Reckless Abandon make most appeal
Tuesday 18/06/2013 3.45 St James´s Palace Stakes
Trends: 9 of last 10 winners had won a European Guineas
Now that Dawn Approach has been declared a runner there are two notable trends qualifiers - Dawn Approach and Magician with the former currently the 6-4f
Wednesday 19/06/2013 3.05 Duke of Cambridge Stakes (Group 2) (Fillies & Mares) Cl1 1m
Trends: 8 of the last 9 winners had won a Group race
Dank and Sarkiyla are notable entries to have won Group races with preference for the former
Others to consider are Duntle and Elusive Kate
Wednesday 19/06/2013 3.45 Prince of Wales´s Stakes (British Champions Series) (Group 1) Cl1 1m2f
Trends: 11 of the last 13 winners had won a Group 1 from 9f to 11f
Qualifiers include Al Kazeem, Snow Fairy, The Fugue, Maxios with preference for Al Kazeem
Wednesday 19/06/2013 4.25 Royal Hunt Cup (Heritage Handicap) Cl2 1m
Trends: 8 of the last 10 winners had raced at least 8 times. Need to have won over 1 mile and a 4 or 5yo is best
The qualifiers to concentrate on are Emilio Largo, Burke's Rock, Educate, Fury, Stirring Ballad, Chapter Seven with preference for Educate
Thursday 20/06/2013 3.05 Ribblesdale Stakes (Group 2) (Fillies) Cl1 1m4f
Trends: Only 3 winners have competed at Group level as a 2yo and winners have usually won over 10f
Those who qualify on both counts include Alive Alive Oh, Winsili, Banoffee, Elik,Ferevia, Gertrude Versed, Riposte, Sea Meets Sky, Waila
Thursday 20/06/2013 3.45 Gold Cup (British Champions Series) (Group 1) Cl1 2m4f
Trends: The last 8 5yo+ winners have won a Group 1. Only 2 winners older than 6 since 1929. Defending champions at Royal Ascot have a good record
The two horses with the best credentials are Estimate and Colour vision
Friday 21/06/2013 3.05 King Edward VII Stakes (Group 2) (Colts & Geldings) Cl1 1m4f
Trends: 7 of last 10 winners ran in a Derby Trial
Windhoek qualifies but seemed not to stay the trip when competing in the Derby - others more likely to prevail include; Greatwood, Contributor, Havana Gold, Mars, Secret Number
Mars could be a lot better than he showed in the Derby, being continually denied a run in that race
Friday 21/06/2013 3.45 Coronation Stakes (British Champions Series) (Group 1) (Fillies) Cl1 1m
Trends: Only 2 of the last 20 winners ran in both the English and Irish 1000 Guineas but it is important to have achieved a top 6 finish in one of them
Sky Lantern is the sole qualifier while Just The Judge warrants consideration
Saturday 22/06/2013 3.05 Hardwicke Stakes (Group 2) Cl1 1m4f
Trends: 9 of the last 10 winners made the frame in a Group race
Ektihaam warrants respect after his 3rd to Al Kazeem in a Group 3 while other qualifiers include; Mount Athos, Red Cadeaux, Thomas Chippendale, Dunaden, Unbridled Command, Universal
Royal Ascot 2013 Saturday 22/06/2013 3.45 Diamond Jubilee Stakes (British Champions Series & Global Sprint Challenge) (Group 1) Cl1 6f
Trends: 8 of the last winners had placed at least at Royal Ascot
Society Rock, Moonlight Cloud, Deacon Blues, Reckless Abandon with preference for the first named
Royal Ascot 2013 Saturday 22/06/2013 4.25 Wokingham Stakes (Heritage Handicap) Cl2 6f
Trends: 10 of the last 11 winners had raced no more than 4 times this season
Plenty of qualifiers if they turn up - top of the list is Duke Of Firenze and Hallelujah makes plenty of appeal. While other qualifiers include; Cape Of Approval, Compton, Hallelujah, Miss Lahar, Poole Harbour, Redvers, Shropshire, Valbchek

Royal Ascot 2012 Trends and Analysis


Ascot 2011 Trends and Analysis