Your ultimate guide to
Glorious Goodwood
If you have found this site useful and enjoy an ad free site, please feel free to make a small donation to help maintain and improve our service. Thank you, Chris.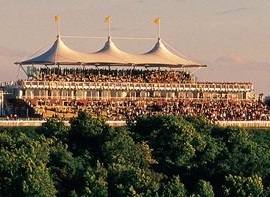 The Goodwood Racecourse, just five miles from Chichester, West Sussex, England is owned by the family of the Duke of Richmond.
The highlight of the flat racing calendar is this Glorious Festival held every year in July/August. The meeting stages two Group One flat races, the Sussex Stakes and the Nassau Stakes.
Ladies Day on Friday 4th August 2017 is an essential feature of the Goodwood Festival and this year the winner of the best dressed competition enjoys a five day trip for two to Cape Town with all expenses paid. To find out how to enter CLICK HERE.
The unique turf course is widely held to be the most attractive in the land with its rolling hills and glorious views incorporating an old iron age hill fort used as a natural grandstand.
Form at the course is a valuable asset for horses racing here as the undulations and turns are unique to this famous racecourse.
Failing form at Goodwood the nearest equivalent is found at Epsom, Beverley or Brighton.
The track consists of a straight 6 furlong course known as the 'Stewards Cup Course' ending in a tight right handed loop on which there are starts for other distances.
Due to its proximity to the coast it is prone to sea mists
Facts, Figures and Top Trends at Goodwood

A few general trends show that favourites do well here with a profit possible by backing all horses with Starting Prices ranging from odds on to 7/2.
Trainers who fare well at this unique course include
Mark Johnston
Has the best record here and often rests his horses for 2-4 weeks prior to a run here and mostly his winners had not won last time out and carry 9st 4lbs+.
Sir Michael Stoute
Does best in races over 1-2 miles and 3yo/4yo+ events especially with Ryan Moore on board.
Luca Cumani
Usually hits his stride at this time of year though prices rarely go above 8/1 while races at 1m2f - 1m6f produce most winners.
Jockeys
Ryan Moore, born and bred in East Sussex, knows the track well and usually records a good profit here but does less well in large fields of 18+
Seb Sanders gets plenty of rides on unexposed horses here and should be followed each-way on 2yo-4yo with an OR of 98 or less
Johnny Murtagh does well on favourites especially when getting his weight down to 8st 10lbs - 8st 11lbs
Track Bias
It is woth noting that from April 2011 there has been a switch for Right Handed courses in which the inside stall is always No 1.
Before this change races over
5 furlongs favoured a high draw
6 furlongs favoured a low draw
7 & 8 furlongs no bias
The Festival
29 July 2014 Goodwood Day 1

1.55 bet365.com Stakes (Handicap) (CLASS 2) (4yo+)
Since 2000 every winner had raced within 6 weeks of this race and usually came in the top 5.
4yo - 5yo dominate with no more than a couple of handicap runs and a win at 1m1f - 1m2f
A classier type if horse with a rating of 98+ has been more succesful in recent years
Favourites do not have a good record and the winner is likely to be priced 11/2 - 12/1
The draw favours those drawn 5 or higher and hold up horses have an advantage
3.05 bet365 Lennox Stakes (Group 2) This race was first run in 2000 and has been won by some class horses; Garswood (2013)Strong Suit (2011)and Paco Boy (2008)
Trends:
12 of 14 winners come from first 3 in the betting - only 2 winners priced in double figures
5 trainers have won the race twice; Richard Hannon, Sir Henry Cecil, Marcus Tregoning, Saeed Bin Suroor, G A Butler
12 of the 14 winners had won at 7f previously
11 of the 14 winners had not raced beyond a mile
6 of the 14 winners won last time out
Only 3 of the 14 winners were 4yo's
6yo+ have a poor record
No winners from horses that raced within 15 days of last outing
13 of the 14 winners had a rating of at least 110
30 July 2014 Day 2
1:55 - Goodwood Stakes
This 2m5f marathon demands plenty of stamina and the winner will have won over at least 2m.
A win this season is important and recent a run in the past 6 weeks an advantage.
The younger generation tend to dominate with 4yo - 5yo carrying 9st6lbs or lower more likely to come out on top.
Favourites do well and don't expect a price more than 12/1 while jumps trainers are just as likely to seize the prize.
3:10 - Qipco Sussex Stakes (British Champions´ Series) (Group 1) Cl1 1m
Trends:
Favourites do well; 8 have won in the last 17 years
16 winners in last 17 years came from top 4 in the betting
10 3yo's have won since 1997
Top contenders this year are Kingman and Toronado
31 July 2014 Goodwood Day 3
2:15 - Betfred The Bonus King Stakes (Handicap) (CLASS 2) (3yo)
Key stat for this race is the participation in the Newmarket equivalent.
3:10 - Artemis Goodwood Cup Group 2 2m
Trends:
Another race for favourites; 8 favourites have won since 1997
13 winners from last 17 have come from top 3 in market
14 of the last 17 winners achieved a top 3 finish last time out
Most winners came from age group 5yo - 7yo producing 12 winners in last 17 years
Only one National Hunt trainer (David Elsworth with Persian Punch)has won this
No horse has defied and absence of more than 60 days
Only 3 winners had not raced beyond 2 miles
16 of the last 17 winners had run over at least 1m 6f and 13 had run over 2m 4f

01 August 2014 Goodwood Day 4
3.05 totesport Mile (Heritage Handicap) (CLASS 2) (3yo+)
A high draw (16+) is a definite advantage
4yo & 5yo dominate
Win over a mile is paramount
Top weights find it hard to win
A SP of 12/1 or less is the norm
3.40 Betfred King George Stakes (Group 2) Cl1 5f
Trends:
Since 1997 only 3 winners in double figure prices - 5 winning favourites and 6 2nd favourites
11 of the last 17 winners priced 6/1 or shorter
Only 2 winners aged older than 6
15 of last 17 winners had won at the distance
9 of the last 17 had a top 3 finish last time out
Concentrate on horses that prefer to be ridden prominently
4.50 Oak Tree Stakes (Group 3) (Fillies & Mares) (CLASS 1) (3yo+)
Trends:
Only 5 winning favourites since 1997
13 of last 17 winners have form over 7f
12 of the last 17 winners were 3yo's
Most winners have had between 1 and 3 runs this season
Most winners achieved a top 5 finish last time out


02 August 2014 Goodwood Day 5
3.15 Markel Insurance Nassau Stakes (British Champions Series) (Group 1) (Fillies & Mares) Cl1 1m1f192y
Trends:
4 trainers have dominated this race; John Gosden won last 2 renewals, Sir Henry Cecil won 3 times with Midday, Aidan O'Brien won twice and Sir Michael Stoute won 3 times
16 of last 17 winners priced 11/2 or less
16 of last 17 winners came from top 3 in betting
12 of last 17 winners were 3yo's
7 of last 17 winners won last time out
15 of last 17 winners had raced between 16 - 60 days prior to this race
3:50 32Red Cup (Stewards´ Cup) (Heritage Handicap) Cl2 6f
Trends:
14 of the last 17 winners have come from the top 6 in the betting
9 of the last 17 winners have come from the top 3 in the betting
No winners have had a break of more than 60 days before running in this race
No winners have failed to win a 6f race
Only 1 3yo has won in last 17 years most winners are in the age bracket 4yo - 5yo
12 of the last 17 winners were rated between 95-104