Your ultimate guide to Kelso Racecourse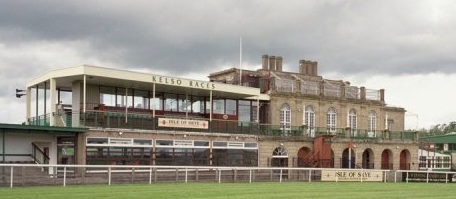 Principal Kelso Facts, Figures and Top Trends.
The venue has the reputation as Britain's friendliest racecourse managing to successfully combine the charm of a bygone era with excellent modern facilities.
The Betting Ring is situated behind the modern Tattersalls Grandstand heightening the atmosphere by keeping the facilities right on top of the action.
Prestigious Races at Kelso
The most prestigious race held at the course is the Grade 2 totepool Premier Hurdle (Novices' Hurdle), held in March and carries a prize of £17,103. In 2011 the winner is Bold Sir Brian trained by Lucinda Russell.
Also on the same day is the totesport.com Premier Chase and carries a prize of £9,393. In 2011 the winner is Skippers Brig trained by Nicky Richards.
In the previous month is staged the Victor Chandler Morebattle Hurdlewith prize money of £9,758. The winner in 2011 is Peddlers Cross and trained by Donal McCain.
Several race days are themed, as many are in modern times and include:
A New Year Meeting in January
The Morebattle Hurdle Valentines Day Meeting in February
A Party in the Paddock in March
The Buccleuch Cup Day in April
Ladies Day in May
The John Smiths Scottish Borders National in December
The Final Fling Meeting at the end of December
Racetracks Statistics
The most successful National Hunt jockeys to ride here are:
Graham Lee 27–181 15% -26.71
Richie McGrath 20–150 13% -7.69
Denis O´Regan 19–117 16% -32.33
Ryan Mania 17–134 13% -20.54
Brian Hughes 15–147 10% -27.17
The most successful National Hunt trainers here are:
Howard Johnson 24–138 17% +5.00
Nicky Richards 21–129 16% -41.91
Lucinda Russell 19–147 13% +19.63
P Monteith 17–150 11% -41.86
James Ewart 14–80 18% +15.1
NB You can use betting software to place bets automatically. BF-BotManager is the one I use as it is reliable and is constantly updated to reflect best practice and industry thinking.
Recent updates to the software include:
Silk and other information for horse/jockey is displayed at selections form

Multiple Strategies bot - new Lay 1-4 staking plan added

Multiple Strategies bot - Events filter condition, added more events to filter by

Multiple Strategies bot - added "Skip if favourite difference is not satisfied" market condition

Multiple Strategies bot - added "Bet if score" market condition

Multiple Favorites bot - fix to retry bet placement if first bet placement failed

Web requests now use gzip compression, less bandwidth is used and faster response from server

Issue with bets history being lost should now be fixed

"Score" column is added to main markets grid, score is determined by using Correct Score market prices. Correct score market must be loaded and monitored during in play for this to work.

Auto loading of markets is improved

Bug fixes
Returns Policy: Once a customer has agreed to pay for a product or service no returns will be permitted or payments returned.
All PayPal transactions are subject to the PayPal Privacy Policy
Privacy Policy: Personal details provided to this site by an individual may be shared with third parties unless requested otherwise.
Above policies updated 15 March 2018