The Epsom Derby 2014

The Epsom Derby 2014 renewal is already generating lots of interest. The main bone of contention is whether the Aidan O'Brien trained Australia can defy his pedigree to win this supreme test of stamina and speed.

It goes without saying that the Epsom Derby 2014 will present a unique test and only the best horses entered have a chance of winning it.

The contestants are confronted with a mile and half of twists and turns, undulations and a four furlong home straight; run from end to end at breakneck speed.

No wonder the owners retire the winning horse to stud, guaranteed to make their fortunes.

For the humble punter seeking to make a fortune from backing the winners the outcome is a little less certain. But using my contacts I have mined into some interesting data at Betting School.

One angle that impresses me is the use of dosage figures to point up the likeliest contenders.

The dosage figures assigned to a horse are determined by the sire's genes which are passed down to their progeny. A sire with dosage figures that indicate a combination of stamina and speed will suit horses attempting to lift the Epsom Derby crown.

All of the last 15 winners had a Dosage Profile of 10 points or more
11 of the last 15 winners had a Dosage Profile of 30 points or more
13 of the last 15 winners had a Dosage Index of 10 points or more
14 of the last 15 winners had a CD of 0.45 or below

See the chart below for past Epsom Derby winner's dosage figures: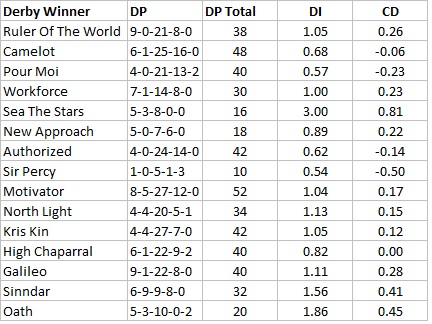 The 2 horses at either end of the scale are SeeThe Stars who is at the top of the speed end of the Dosage scale and Sir Percy at the bottom end of the stamina scale.

Sea The Stars was so talented that he had the class to confound the Derby Dosage stats while Sir Percy was the worst winner in recent times.

So to turn our attention to the 2014 renewal we can compare the dosage figures of the leading contenders. See the chart below:

Epsom Derby 2014

Most have a fair number of positives but it is interesting to note that the market leader Australia has only 3; while the horse with the most positives is Geoffrey Chaucer.

Like Sea The Stars it might just be that Australia can simply outclass the opposition but at the available odds I wouldn't bet on it.

Adelaide also boasts a full set of positives and at 33-1 merits serious consideration; that price could shorten come the day of the race.
At the Curragh in May 2014 Adelaide comfortably won the Airlie Stud Gallinule Stakes (Group 3) run over 1m2f.

Back to Epsom Derby from Epsom Derby 2014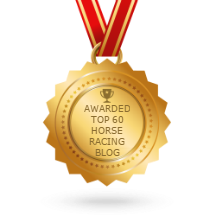 Returns Policy: Once a customer has agreed to pay for a product or service no returns will be permitted or payments returned.
All PayPal transactions are subject to the PayPal Privacy Policy
Privacy Policy: Personal details provided to this site by an individual may be shared with third parties unless requested otherwise.
Above policies updated 15 March 2018