Looking at Pedigree for distance in 2020 Kentucky Derby
by R Stover
(Visalia, Ca)
For the upcoming Kentucky Derby possibles, I have some that I really like:

Tiz the Law, Independence Hall, and Authentic.

I've read several places where the posts say, "Authentic's breeding is a question mark".

I was wondering why? He has Secretariat lines on both sides. Is it because they are only looking at sire and dam/sire? I am new to horse racing. Thank you.

Authentic

Answer provided by

Laurie Ross

Learning distance capabilities and surface preferences is crucial to good handicapping, so I'll start with the lesson first, and then discuss Authentic.

There are four things that are used to determine a horse's ability for distance.

Pedigree, Conformation, and temperament/running style. In some cases more and more, genetics are used to establish whether a horse has sprinter/miler/stayer genes, but that's a different subject all together, so we'll stick with the four main categories.

Pedigree: Pedigree can be used for handicapping or for breeding. Using pedigree for handicapping purposes, one looks at the overall distance (and surface) capabilities of the sire's offspring (or the sire himself, if he's a new stallion).

We also view the subject horse's siblings' and dam's records for distance/surface limitations, as well as the distance capabilities of the offspring produced by the daughters of the broodmare sire.

We view the female second generation to see the overall types of runners (both for class and distance) and the third generation of the distaff line for class.

Conformation: What a horse looks like is the best indication of how far he will run.

Conformation of a horse's head, neck and shoulders will decide how far his front legs can extend. A horse with a long, well muscled neck can take longer strides with greater ease and thus, have more stamina over longer distances.

A short necked hose must move his legs faster and more often to keep up.

Stride is also determined by shoulder and hip angles. A horse with a laid-back well sloped shoulder can extend its forelegs farther than a horse with a more upright shoulder.

Height has nothing to do with stride length. A properly conformed short horse has no problem keeping up with a longer-legged horse (note that Northern Dancer was only 15.1 hands high and won the Derby and Preakness).

Horses with a shorter stride usually lift their feet higher and hit the ground more forcefully, expending more energy than longer striding horses.

Sprinter's have stifles higher than a stayer, and usually a shorter humerus (elbow to the point of shoulder).

Stayers have longer shoulders and humerus, and have stifles well away from their bodies, below the level of the sheath, which helps maximize stride length.

Middle distance horses fall between the extremes of sprinters and stayers.

Temperament/running style: A horse's mind is more important than their pedigree or conformation. Like everything in life, there are leaders and followers.

Horses are herd animals, and communicate with body language 98% of the time. Think of each race as a "herd" coming together.

It may not look like it to the casual observer, but horses are scoping each other out in the walking ring and while warming up. How a horse responds mentally to the chaos of the race, and the mind level (high, mid-level or low) of the horses around them decides how that horse will perform.

A high minded horse is the one who wins races.

A mid-level horse will run with the winner but not pass. they'll stay a neck, half length or even a length behind the high-level horse no matter how much they're encouraged to pass.

A low level horse seldom wins.

Each "level" changes in every race, since the competition changes. Two high-level horses will battle it out, neither giving an inch.

A mid-level horse running against lower levels will win. Ever see horses that continually race against each other and they all take turns winning? That's a group of mid-level horses.

Pedigree: Authentic has a miler/middle distance pedigree. None of Into Mischief's 45 listed/graded stakes winners have won beyond 1 1/8 miles.

Authentic is the first foal out of Flawless, who started only twice as a sprinter/miler. She's one of two foals to race out of an un-raced dam.

The third generation of Authentic's female family is filled with sprinter/milers, including Dubai Golden Shaheen hero Reynaldothewizard, multiple Grade 1-winning sprinter American Gal, and Grade 1-placed sprinter Marking.

Mr. Greeley is the damsire of 71 listed/graded winners strongest up to middle distances. A few have won at Classic distances.

As for Secretariat, he is far back in Authentic's pedigree. Anything three generations and back are useless for handicapping, because whatever qualities they offer have been passed down to the succeeding generations.

It's like looking at your great-granddad to figure out what your kids will look like.

Conformation: Authentic has the conformation of a miler/middle distance horse. He has a deep, slanted shoulder, which helps him reach out with his front legs, yet his stifle is roughly sheath level.

Temperament/running style: Authentic is still green (learning), and figuring out where he belongs in the herd.

So far, he's come up against mid/low level runners, and has never faced a high-level horse. The most accomplished runner that he beat is Zimba Warrior, who won a maiden race, finished third in three consecutive stakes, and was sixth in the R.B. Lewis.

I find it very telling that Authentic normally breezes alone in the mornings.

I located a few workout videos from last year when he was paired with stablemates. He stayed a determined half length behind them, indicating to me that he's a talented mid-level horse who has been carefully placed in his races and the trainer will continue to do so in order to maximize KY Derby points to get this one to the Derby.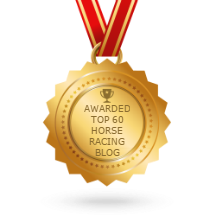 Returns Policy: Once a customer has agreed to pay for a product or service no returns will be permitted or payments returned.
All PayPal transactions are subject to the PayPal Privacy Policy
Privacy Policy: Personal details provided to this site by an individual may be shared with third parties unless requested otherwise.
Above policies updated 15 March 2018