Dutching For Profit

Dutching in horse racing is a way to bet more than one horse in a race and always make a profit if one of your selections wins.

Why should we consider dutching our bets? After all tipsters don't offer advice on betting several horses in a race.

Dutching Calculator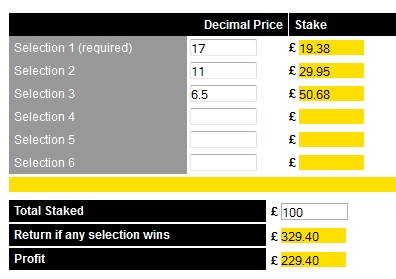 The main reason is that it will increase your strike rate and reduce losing runs. The best strike rate you can usually expect for win single bets is 20% - 30%; consequently winning just 2 or 3 bets in 10 can drastically reduce your betting bank and also your confidence.

As you gain experience in betting several horses in a race your betting turnover will increase and with it the speed with which your bankroll increases.
www.oddschecker.com offer a dutching calculator

You will see default odds in the first 3 selections so you just replace these with the odds for your own horses. Then change the stake you wish to wager on the race. This will give you the individual stake required to be placed on each horse to give you a profit if any of your selections wins.

NB You can automate your betting with BF-Bot Manager - the ultimate betting bot with a free trial period.

Dutch Overlay System
NB the odds will need to be big enough to make a profit so let us consider a system devised by Michael Wilding of Race Ratings Pro to identify suitable races.

The method is called the Dutch Overlay; an overlay occurs when your expectations of a horse's winning chance (say 75%) exceeds that of the betting market (say 50%).

Statistics show that favourites of any horse race stand a 35% chance of winning, the runner up 20% and 3rd 14%. Adding these together shows that the top 3 in the market have a 69% chance of winning.

Next we need to identify a suitable class of race for betting on; to keep it simple focus on 3 aspects - distance, going and number of runners. As you gain experience and confidence you can apply various other conditions that you deem appropriate such as form, trainer, jockey etc.

So initially we might choose to focus on 7f races on firm going and with 8 or 9 runners for which past records show that the 1st, 2nd and 3rd favourites have a 76.3% winning chance.  This is higher than for our general rate of 69%.

Check the days races for all those that meet our criteria of 7f on firm going and with 8 or9 runners. Near the off check the decimal odds of the first 3 in the betting and convert them to percentages using the calculation % = (1 / decimal odds) x 100

Now add the 3 percentages together and if this is less than 76.3% then we have a possible bet. Betting on the exchanges we would need to consider the commission and then add say 5% so a minimum of 10% advantage would mean 66.3%.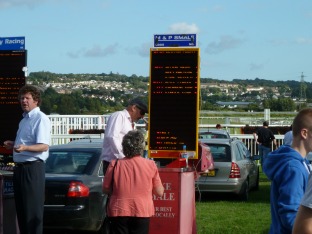 On course bookmakers
Sample Race
Favourite odds: 3.0 = 33.33%
2nd Favourite odds: 5.0 = 20%
3rd Favourite odds: 8.0 = 12.5%

Total odds = 65.83% winning chance

If the favourite has odds of 3.0 or 33.33%, the second favourite has odds of 5.0 or 20% and the third favourite has odds

of 8.0 or 12.5%, this means that the betting market is saying that the chance of one of the first three favourites in the betting winning the race is 65.83%.

We already know that actually it should be 76.3% so we have found a value bet.

Now all that remains is enter the decimal odds into the dutching calculator to find the correct stake to place on each horse and realize a ROI (return on investment) of 51.9%.

Admittedly you won't always find odds this big but as you gain experience of this method you will find ways to gradually improve your profits.

Back to Betting Management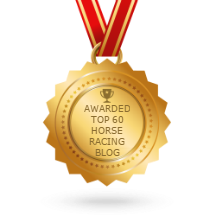 Returns Policy: Once a customer has agreed to pay for a product or service no returns will be permitted or payments returned.
All PayPal transactions are subject to the PayPal Privacy Policy
Privacy Policy: Personal details provided to this site by an individual may be shared with third parties unless requested otherwise.
Above policies updated 15 March 2018