Studs
by Craig Pierson
(Newark, DE. USA)
Is there a rule against racing a horse while he is performing stud services?

If there is no rule, have any studs continued to race?

ANSWER: Amy Bennett of British Bloodstock Marketing has this to say:

"To the best of my knowledge there is no rule forbidding the racing of an active stallion, but it is of course an extremely rare occurrence.

The only reason I know it is allowed is because when I was working for the Racing Post I wrote an article on a horse called Gentleman's Deal (Danehill - Sleepytime) who continued to race as well as covering mares.

I don't have the copy of the article to hand so I can't recall the exact details, but from memory, he would be given a six week break during February and early March during which he would cover mares, all the while being kept in exercise, and then would return to racing in March.

In 2007, when I wrote the article, he was a Listed winner at Kempton on February 4th, began covering on February 14th (start of the northern hemisphere breeding season), and then won the Group 3 Lingfield Winter Derby on March 24th, then returned to stud to finish the season.

I remember the stud manager telling me that it was only possible because Gentleman's Deal was such a laidback character, and that unless a filly was paraded directly in front of him before a race, he wouldn't be that bothered.

He only covered small books obviously because he was working to a timescale rather enjoying the usual 5-6 month season, and unfortunately his first two-year-olds which raced this year have not had any wins yet.

Gentlemen's Deal himself has now retired from racing and is at stud in Russia, if memory serves.

I cannot think of another recent example of a horse continuing to race while covering, and I think the answer is probably that there aren't any. The majority of studs are such a valuable commodity that it isn't worth the risk of continuing to race them, aside from the very real behavioral problems.

Once a horse has learned to be a stallion, even the most placid can be more difficult to handle. I remember reading about the problems Aidan O'Brien had with George Washington when he was returned to training after the discovery in 2007 that he was subfertile where he refused to concentrate and couldn't be around the fillies."

Bloodstock expert Tony Morris recollects that "Environment Friend was one, I think. Can't recall another recent one offhand.

Fifty years ago there was Pheidippides, a Gimcrack winner who ended up running in very modest company. It was said that he ran better in the afternoon if he had covered a mare in the morning. But I don't remember him as a sire at all; it may be that he just covered non-Thoroughbreds."

While Judy Davis-Wilson, Executive Director Delaware Standardbred Breeders' Fund draws attention to the residency racing rules for Thoroughbreds and Standardbreds:

"Delaware's TB program is a residency program where the horse is required to live here for 90 days. There is no money for sires who stand here.

The Standardbred program allows stallion to be registered and race but they can't leave the state nor can they race in claimers till after the end of the breeding season.....Feb 1st to July 31st."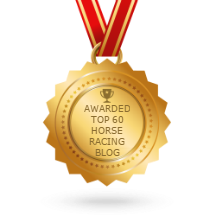 Returns Policy: Once a customer has agreed to pay for a product or service no returns will be permitted or payments returned.
All PayPal transactions are subject to the PayPal Privacy Policy
Privacy Policy: Personal details provided to this site by an individual may be shared with third parties unless requested otherwise.
Above policies updated 15 March 2018