Grand National Betting Tips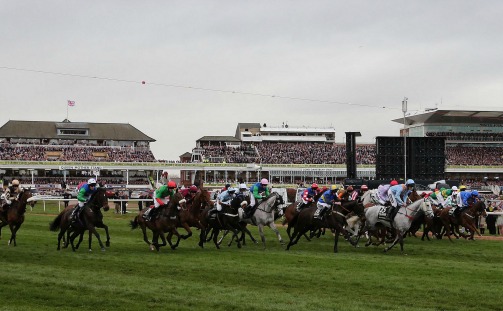 Start of the Grand National
There are plenty of Grand National betting tips for horse racing fanatics and punters that constantly keep an eye on the form and enjoy a flutter on races all season long, but the Grand National is one event that brings out even the most occasional gambler.
Many people will get involved in informal sweepstakes, but for those that want to dip their toe into the world of online gambling, it's a great place to start.
The most important thing is to choose a reputable online site that allows you to benefit from good odds, offers an array of security features, and has a simple and clear interface.
Anyone that wants to place a Grand National bet should check that their chosen site offers them good odds and a variety of betting options so that you can maximise your Grand National experience.

Grand National Betting Ring
Grand National Betting Advice
As one of the most famous races in the world, there is plenty of information about the Grand National, from statistics about previous winners to speculation about the upcoming prospects and their chances of taking the top prize.
From details of the horses' training regimes to information about the jockeys' health, almost anything can be useful when it comes to working out who you think will win.
Types of bets you can place on the Grand National
There are various types of bets you can place on the Grand National, from simply picking the horse that you think will win, to more complicated wagers that require a little more in-depth knowledge. 
As well as a win-only bet, in which your chosen horse needs to come first to pay out, you can also place an each-way bet which will pay out if your horse is placed in first, second, or third. An each-way bet is effectively two separate bets, so if you want to bet £10 each way, your total bet will cost £20.
Many betting sites offer punters the chance to capitalise on their interest in the Grand National by offering special offers and promotions to maximise players' potential winnings. These can take many forms, including:
Matching bets, 

Boosting winnings by a certain percentage

Free bets

Offering beneficial odds

Welcome bonuses 

Offering free bets on other games
It's always worth checking for special offers when placing a bet to maximise your chances of winning and increase your potential prize.
Grand National favourites for 2022
Despite being one of the most unpredictable races on the calendar, the Grand National betting odds reflect the likelihood of any given horse winning. This year's favourites include:
Minella Times – After the excitement of last year's win that saw Rachael Blackmore become the first female jockey to take the first prize, Minella Times should be a contender for this year's race. However, with an injury from a fall earlier in the season and notable weight gain since last season, it's far from a foregone conclusion.

Any Second Now – Having taken third place in the 2021 Grand National, despite a mistake at the tenth fence that looked like it could spell the end of the race for this impressive horse. His remarkable recovery wasn't quite enough to push him out of third place, but he showed remarkable stamina, so perhaps 2022 could be his year.
Delta Work – After impressing fans at Cheltenham when he beat two-time Grand National winner Tiger Roll, the odds for Delta Work are looking good. Despite being new to the world of Cross-Country racing, Delta Work took to the unfamiliar environment with surprising competence. 
Snow Leopardess – This year has seen Snow Leopardess triumph in the Becher Chase at Aintree and she will be looking to become the 14th mare to win the Grand National in 2022. Although she has had a couple of injuries that have taken her out of action over the last few years, her form in recent races has shown her to be a potentially strong contender.
Fiddlerontheroof – His assistant trainer has revealed that they have been avoiding racing Fiddlerontheroof to preserve his handicap for the Grand National. His stamina is not in question and although this will be his first Grand National appearance, he has had a great season so far.
Enjoy D'allen – This horse may have a mixed history, but he came third in the 100k Paddy Power Chase at Leopardstown and has recently been acquired by JP McManus. With two recent winners, Don't Push It and Minella Times, McManus will be looking to claim a third victory in this year's race. 
Although many of the jockeys for this year's race have yet to be announced, there are some seriously promising contenders waiting to be paired with some of the most impressive horses to run this year. Whether you are an experienced horse racing fan or a first-time punter, the Grand National is always one of the most exciting races of the year.