Irish Racing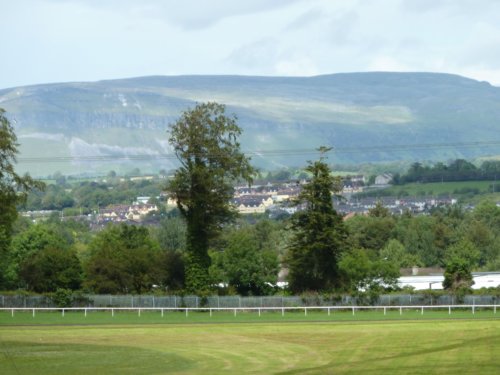 Irish Racing at Sligo
A Search For Answers On The Island Of Destiny
If president-elect Joe Biden in 2021, found time to watch the Breeders Cup races that year, he could be forgiven for allowing himself a smile at the victories of the Irish racing contingent.
The Breeders Cup Mile winner was Order Of Australia, ridden by Pierre -Charles Boudot and trained by Aidan O'Brien from Ireland, who also trained the 2nd and 3rd placed horses.

Dermot Weld, also from Ireland, captured the Breeders Cup Turf with Tarnawa, ridden by Colin Keane.

For, like several presidents before him, George W. Bush, Barack Obama, Ronald Reagan and John F Kennedy, he can lay claim to a proud Irish ancestry.
When asked for a quote by the BBC, earlier in the year, he demurred with the Joke, "I'm Irish".
On learning of his likely success in the presidential election he reads from the works of Irish poet, Seamus Heaney: 
"So hope for a great sea-change
On the far side of revenge.
Believe that a further shore 
Is reachable from here.
Believe in miracles
And cures and healing wells."
For the Irish raiders, at Breeders Cup meetings, there appears little need to hope for miracles.
The number of Breeders Cup winners at 32, is second only to the United States.

What is it about the Irish racing industry of this small island that enables it to punch so far above its weight? For pundits and horse tipsters Irish racehorses are their meat and drink.
There must be more to it than just luck, despite the old Irish saying: "If you're lucky enough to be Irish, you're lucky enough."
Ireland has always been a wild and restless nation. Ever since the Celts arrived there, fleeing the persecution of the Romans, they have had to contend with any number of setbacks, which drove many to pursue their dreams in other lands, especially the United States.
This question had always intrigued me until a few years ago when I decided to try to resolve it by visiting the 'Emerald Isle' itself.
I mentioned the quest to my sister Sarah at a family party and between us, over a tot of Jameson, we hatched a plan to visit the 'Island of Destiny'.
Sarah had enjoyed the position of head groom at a stables for hunters and point-to-point horses; set in the rolling Cotswold countryside and not so very far from the honeyed stone and dreaming spires of Oxford.
Her deep knowledge of horses would make her an invaluable companion.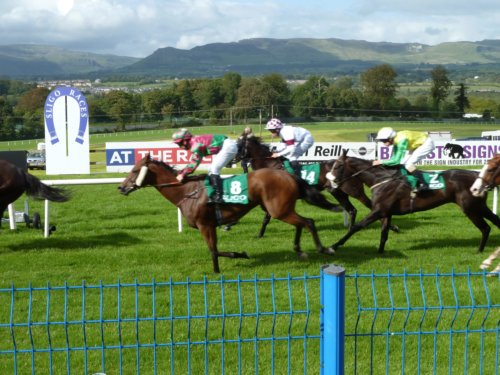 Irish Racing at Sligo Racecourse
We travelled by Irish Ferries from Pembroke to Rosslare and from there by car through central Ireland. Our destination was the townland, Tullantanty, where we would stay at a traditional Irish cottage, quite close to the racecourse at Sligo.
On our journey we would be passing through the counties where some of the most famous trainers have their stables. Driving along the quiet roads through the Irish countryside, one is immediately struck by the rich verdant pastures that line the way. Indeed, here was a piece of the puzzle we were trying to complete.
Could the success of the Irish thoroughbreds partly lie in Ireland's wet, temperate climate allowing year-round grazing. While the limestone soil encourages the growth of calcium-rich grass to strengthen sinew and bone.
As we journey through the lush countryside we pass through the counties that contain some of the finest trainers in Ireland.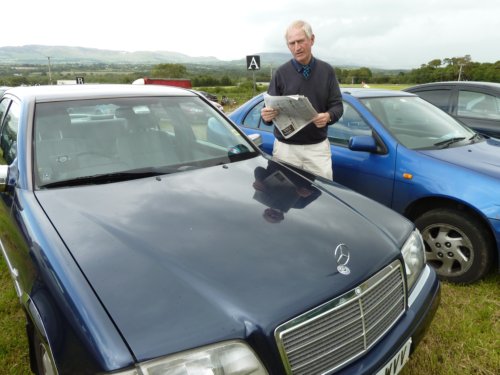 Chris Wigg at Sligo Racecourse
Irish Racing Trainers
Jim Bolger at Oylegate, County Wexford who has trained such champions as Teofilo, New Approach and Dawn Approach.
Joseph Patrick O'Brien at Piltdown, County Kilkenny

Son of Aidan O'Brien, Joseph was champion jockey in 2012 and 2013 but in 2015 he assumed the running of the family stable at Piltdown, County Kilkenny.

It wasn't long before he began to emulate his father's success in sending out winners to all parts of the globe, notably winning Australia's Melbourne Cup with Rekindling in 2017 and again in 2020 with Twilight Payment.
Aidan O'Brien trains at Ballydoyle, County Tipperary, where he moved in 1996 after apprenticeships under P J Finn, Jim Bolger and Annemarie Crowley, who later became his wife.

The stable was established by Vincent O'Brien, no relation, in the 1950's and its gentle slopes and fertile lands were ideally suited to the training of racehorses, together with specially devised peat gallops to minimise the risk of injury to fragile legs.
Aidan O'Brien has sent out stakes winners to all parts of the world; Hong Kong, the United Arab Emirates, Australia, Italy, France, Britain and America where he has captured 12 Breeders Cup races.
He succeeded his illustrious predecessor, Michael Vincent O'Brien who, along with his son-in-law, John Magnier and the late Robert Sangster established what became known as the Coolmore Syndicate, one of the world's largest thoroughbred breeding operations.
Currently owned by the Magnier family, Coolmore occupies 7,000 acres in Co Tipperary and has produced champion sires such as Saddlers Wells, Danehill and Galileo, whose progent have produced  numerous stakes winners throughout the world.
They now have branches in Australia and America.
Saddlers Wells was a son of American sire, Northern Dancer and his offspring included Galileo, Montjeu and High Chaparral all of whom became important sires for Coolmore.
There is also a substantial broodmare operation, one dam of which is Untouched Talent, already the dam of grade 1 winner Bodemeister.
Jessica Harrington at Commonstown Stables, Co Kildare has the distinction of being the most successful female jumps trainer at the Cheltenham Festival, sending out such legends as Moscow Flyer, Sizing John and Alpha Centauri.
And so at last we arrived at Tullantanty and decided on the morrow to attend the race meeting at Sligo, a town which gets its name from the abundance of shellfish to be found in the river and estuary.
Having settled ourselves into the cosy bar with a pint of Guinness in hand we fell into conversation with a local racegoer. When asked why it was that Ireland was such a successful horse racing nation he said; 
"Aye, we're not ones to act the maggot when it comes to racing; it's a serious business indeed. Fair play to the likes of Aidan O'Brien and Willie Mullins but o' course the government is class when it comes to giving the industry a hand with the Horse and Greyhound Racing Fund, which hands out somewhere in the region of £60 million every year, I believe."
As we travelled back home after an enlightening trip, I could now see the advantages that Irish racing enjoys. 
The rich and nutritious grass that grows year round. 
An international breeding operation that is the envy of the world.
The generous grants and funding by the government and the great passion for horse racing of the people all combine to give Irish racing a leg up on the international stage.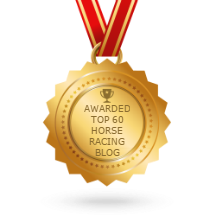 Returns Policy: Once a customer has agreed to pay for a product or service no returns will be permitted or payments returned.
All PayPal transactions are subject to the PayPal Privacy Policy
Privacy Policy: Personal details provided to this site by an individual may be shared with third parties unless requested otherwise.
Above policies updated 15 March 2018