Racehorse Cougar II
Cougar II
Did the thoroughbred racehorse Cougar II ever win a race wire to wire - that's when a horse breaks from the starting gate first and stays in the lead to win the race.

Answer: Researched by Laurie Ross from an original article by Mike Sekulic

Cougar II won once going wire to wire in the 1 1/4 mile (turf) - in the San Marcos on January 23, 1971. He won from the front multiple times, but this is the only instance where he went wire to wire.

COUGAR II (Chile) was a brilliant thoroughbred racehorse running from 1968 to 1973. Entering the USA as a 4yo in 1970 he quickly established himself as a talented horse for the Perla De Chico Stud by winning twice and was soon snapped up by the Florsheim shoe heiress, Mary Jones Bradley for $125,000 with a new trainer, Charlie Whittingham. Running in his new colours COUGAR II made the frame in 3 of 4 starts in his first year.

Cougar vies for the Big Cap

It wasn't long before he was capturing the attention of a wider audience by winning the San Gabriel Handicap and San Marcos Handicap and running the top notch DARYL'S JOY a close second at Santa Anita's turf course.

He almost closed down ACK ACK, also trained by Whittingham, back on dirt in the Santa Anita Handicap, missing out by a mere 1 1/2 lengths. Racing on turf appeared to play to his strengths as he dismissed Horse of the Year FORT MARCY by 3 lengths in the San Juan Capistrano.

By now the weights were rising for COUGAR and the Hollywood Park's Century Handicap saw him anchored into 3rd place, before posting well deserved wins in the Californian Stakes at 1-1/16 miles on dirt, and the Hollywood Turf Invitational (otherwise known as the Ford Pinto Invitational) at 12f on turf, again getting the better of FORT MARCY by a head.

COUGAR was rapidly becoming an equine celebrity which had much to do with his charisma and 'hit 'em late' style of running. Caught up in the excitement Mary Jones cajoled Charlie Whittingham into entering him against ACK ACK in the Hollywood Gold Cup as she believed she could realise her ambitions for Cougar to be voted Horse of the Year.

Although entered to race, the horse was scratched by his trainer the morning of the Gold Cup, and reading between the lines it was obvious that ACK ACK was Whittingham's favorite and didn't intend to upset his chances. The 2 mile Sunset Handicap on the turf was next on Cougar's agenda and even though carrying 16lbs more than the winner, OVER THE COUNTER and encountering trouble in running, he only just lost out by a ½ length.

It wasn't long though before he resumed winning ways and at Mary Jone's insistence he contested the Woodward Stakes at Belmont Park winning easily by 5 lengths, completing the 10 furlongs on dirt in 2:00-2/5, only to be demoted to 3rd place for an alleged "interference" which was greatly exaggerated. Much the best on the day he annihilated the best that the East Coast could muster.

"I made my point," said Charlie Whittingham, aggrieved at COUGAR's disqualification, implying that if COUGAR was the top horse in his stable bar one, what could ACK ACK have achieved? Back in California on turf the horse claimed the Oak Tree Invitational, in a time of 2:24-3/5 for 12f.

Beginning to suffer from fatigue, COUGAR failed to win in his next 4 races but to his credit was never out of the frame, claiming three 2nds and a 3rd one of which was to TRIPLE BEND who claimed a 7lb advantage.

Cougar was set to wreak his revenge when set to re-oppose TRIPLE BEND at level weights in the New York Californian Stakes, but his conqueror's owner chickened out on realising his weight advantage was gone, opting instead for a New York assignment.

This turned out just as well as Cougar finished fast and late to win by nearly 3 lengths in the Californian race, recording the 2nd fastest 1-1/16 miles on dirt in history in 1:39-1/5 and just failing to equal 'SWAPS' record by 1/5.

Three weeks later back on turf, the in form COUGAR ran 1-3/8 miles in a NAR 2:11 an achievement not bettered in 15 years. In his next race he was unable to give 12lbs to TYPECAST and finished 3rd behind VIOLONOR but after a break over the summer he finished off his season by winning the Carelton F. Burke and Oak Tree Invitational and was duly voted winner of the Eclipse Award for championship turf horse of 1972.

His first target of 1973 was the Santa Anita Handicap, where he was runner-up in both 1971 and 1972 and his trainer's preparation restricted Cougar to just workouts and a 4 month break but resulted in a win under top weight, narrowly defeating KENNEDY ROAD, in 2:00.

Ack Ack 1971 Santa Anita Handicap

COUGAR was now in his 7th year and beginning to feel his age, finishing 3rd 6 times at San Luis Rey, San Juan Capistrano, Hollywood Turf Invitational, Marlboro Cup, Woodward Stakes, but nevertheless managed to win the Century Handicap and the Sunset Handicap, both on turf.

1973 Marlboro Cup

Perhaps wishing to try something new his owner put Laffit Pincay Jr up in place of his usual jockey, Bill Shoemaker, much to the consternation of the media and his army of fans. But his new rider quickly realised he was dealing with a horse who had his own ideas of the game which seemed to involve giving his rivals a healthy lead before attempting to pick them off by running the last 1/4 in 23-4/5.

1973 Woodward Stakes


With Shoemaker back up, COUGAR II beat his own personal record for the track in the Marlboro Cup, finishing fast and furious behind SECRETARIAT who won in 1:45-2/5. Charlie Whittingham made the laconic comment that, "If he hadn't tried to tear down the starting gate, and hadn't broken so badly, and hadn't had to alter his course in the stretch, he would have been closer. We'll be back .."

Such was the adulation of Cougar II's fans that they cheered him to the rafters post parade and would be rewarded with a couple of dance steps and a nod by COUGAR before cantering down to the starting gate. Banners were unfurled reading, "GO COUGAR GO" in the infield at Santa Anita. Even the trainer's son, would get goose pimples on hearing the roar of the crowd's appreciation.

Cougar II finally retired in 1973 having won 20 of his 50 races with 7 places and 17 shows and amassed earnings in excess of $1.16 million (9th position on the all-time earnings list). What made his achievemnts even more remarkable was the fact that in the majority of races he was required to shoulder top weight. Among his conquests were FORT MACY (twice) and the great fillies and mares SUSAN'S GIRL, DRUMTOP, TYPECAST, SHUVEE and SUMMER GUEST.

His greatest accolade had to wait another 33 years before he was deservedly inducted into the hall of champions in 2006 by the Racing Hall of Fame but his memory lingers even longer in the minds of those fortunate enough to witness this fine and charismatic race horse.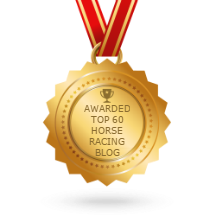 Returns Policy: Once a customer has agreed to pay for a product or service no returns will be permitted or payments returned.
All PayPal transactions are subject to the PayPal Privacy Policy
Privacy Policy: Personal details provided to this site by an individual may be shared with third parties unless requested otherwise.
Above policies updated 15 March 2018