Scratch Card Wins
Amazing scratch card wins and lottery wins stories of people who have made fortunes on the instant win cards. 
U.S. Winners
A man from Hallandale Beach, Florida, scooped a massive $10 million when his $25 scratch-off card revealed the winning numbers.
Bryan Goldstein stunned the cashier of his local Stop N Go store in Atlantic Shores Blvd, Josefina Skinner when the machine revealed the win.
Goldstein decided to buy just one of the $25 Florida Cash tickets from owner Hamdan Saleh who later commented: "He scratched off only the bottom, and let the machine check the ticket for him". 
He claimed the $7,355,576 prize as a lump sum and the store owner received $20,000 commission for selling the ticket. According to the lottery's website the chances of winning $10 million in this game are 1 in 8.1 million.
Story reported by Linda Trischitta in the South Florida Sun-Sentinel
Welsh

Winners
In May 2015 a councillor for Gwynedd council, Nigel Pickavance and his wife Vicky won £70,000 on a lottery 'Jewels 7 Doubler' scratch card, as reported in the Daily Post. 
They received their winnings from the lottery organisation Camelot and confirmed their win on Facebook with a pic showing them celebrating with a glass of champagne. 
---
A Report in the Daily Post reveals that a Welsh winner of a £2 scratch card re-invested the money in a second card which scooped the £250,000 Jackpot.
Bryony Elson, from Tywyn, called in to her local Nisa store on her way to work to cash the £2 winning card. Feeling lucky she purchased another £2 Blue And Green £250,000 scratch card and amazingly scooped the Jackpot.
A shocked Bryony said, "I kept scratching and could not believe what I was seeing". Her boyfriend, Kieron, who had bought the original card for her, could hardly believe it either but now it has sunk in they are planning how to spend the windfall.
The happy winner is thinking of buying a Mini Cooper, a new home and taking her boyfriend on a wonderful holiday abroad.
Irish Winners
Sharinayo won a £1 scratch card after a Saturday night's Lotto draw and then matched the draw numbers to win the £6.3m Jackpot.
Gerard Murphy said "I've been playing these numbers for a very ling time, I'm glad I did not change them".
Mayo seems a lucky place to live as the county has collected £90m in 9 Lotto Jackpot prizes since the games began in 1988.
A £250,000 scratch card winner bought the ticket at a Mace store in Derry on Friday 31 July 2015. The Derry News reported that Sharin McCourt, who purchased the £2 lottery card, soon returned to the shop on Coolmore Road to have the win confirmed. 
Sharin told reporters she had bought 2 cards on a whim whim while out shopping for groceries and was left speechless on discovering she had hit the jackpot. She says she will buy new wellies and a car for her friend to drive them both to their favourite musical festivals around the country.
---
Scratch Card Wins Life Changer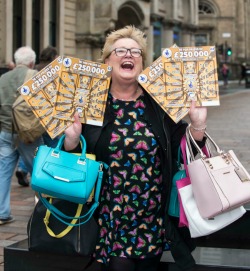 A lucky woman in Irvine, UK has won £250,000 on a lottery scratch card, reports the Irvine News.
Linda Cain, a 59 year old NHS screening manager usually buys a card every couple of weeks, winning the odd £5 or £10 which she saves up before cashing them in.
However while out shopping recently she put the card into her handbag and then forgot all about it until 2 weeks later when she came across when fishing out her mobile phone.
At first she could not believe her luck when she finally scratched out the winning numbers and asked her dad and son to check for her. When it was confirmed by the claim line she was ecstatic: "this win is just amazing - it will really change my life".

She has now brought forward her retirement and looks forward to treating her family to holidays and herself a new car.