Place Betfair bets below

the Betfair £2 minimum stake to test out new tipsters and systems.

Betting on the exchanges is one of the easiest and most profitable ways to bet these days although there is one aspect that is less flexible than using a traditional bookmaker - the value of stakes.

Betfair imposes a minimum stake of £2 and while this in itself is a modest amount, there may be occasions when stakes below this would be useful.

For example you may wish to test out your own system with low stakes until the system has proved itself; especially if there are a large number of selections each day.
Betfair Paper Trading
As we all know, paper trading is never as realistic as the real thing.

However there is in fact a trick you can use to place bets at below their minimum price which is well worth knowing and not difficult to achieve.

Begin by placing a £2 bet on a horse in the usual way but specify odds of 1000. A warning advises that you have entered odds greater than 99 - click ok and confirm the bet.

Obviously at this price your bet won't be matched so now click on 'My Bets' and change the stake to add an amount you actually wish to place eg £0.50 - your stake now becomes the original £2 plus the £0.50 = £2.50.

Click on Submit and you will see that you now have 2 bets - 1 of the original £2 stake and a 2nd bet for the £0.50 stake.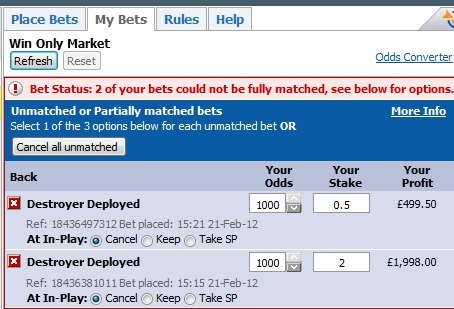 All that remains is to cancel the original bet of £2 by clicking the red cross next to it, press 'Submit' and then 'Continue'.

Finally change the odds as required on the remaining bet or click the 'Take SP' button.

NB this method is too slow to place bets on the 'in-play' markets but it works fine for standard bets.

Alternatively use the BF-BotManager where stakes as low as £0.01 are possible.

They offer a 5 day free trial then a one-off purchase fee which entitles you to all future updates in the software.
NB Since this article was written this method of placing bets on Betfair is no longer possible as they have got wise to the anomaly.
However the 5 day free trial for the BF-BotManager software is still available which would give you time to test a system with less than £2 stakes. 
It is also possible to obtain tips from proofed tipsters free of charge at TippingSports and have these tips placed automatically for you.
Returns Policy: Once a customer has agreed to pay for a product or service no returns will be permitted or payments returned.
All PayPal transactions are subject to the PayPal Privacy Policy
Privacy Policy: Personal details provided to this site by an individual may be shared with third parties unless requested otherwise.
Above policies updated 15 March 2018