Bet software and betting bots have been around for awhile
but does Bet Software really make money for you?
What is bet software, otherwise known as a Betting Bot?
An exchange betting bot is either a specially written software interface, or a spreadsheet (Excel), that aids in the automated trading of horse racing, football, darts, cricket and all other events Betfair covers.
Betting bots are nothing new, as similar software has been around for city trading for years, but it is only recently that they have been used for sports betting. Betting bots can be used for trading, hedging, dutching, arbing, automatic betting, and much more.
It's been awhile since I first reviewd bet software on this website so it's timely to revisit the subject to see what advances have been made.
BF Bot Manager (for which there is a FREE 5 day trial) is recommended so I took the plunge and below I reveal my findings....
Bf Bot Manager has 2 versions of its bet software and each one is available for free trial which means you get 12 days of free trial in total.
Add-on bots are also available for free trial for 6 days. Just like any tale of fluctuating fortunes, this review of BF Bot Manager v2 has a beginning, a middle and a happy ending.For other testimonials click here.

After Rade, the author of the software, kindly sends me the license keys the software downloads without fuss and I am soon up and running.
I am presented with a choice of bots that place and manage bets using the Betfair API and include horses, football, greyhounds, tennis etc :
Back/Lay favourites (horses) is my first choice as I know most about laying horses to lose and I choose to include the racing markets from UK & Ireland, Australia, USA and RSA - well might as well make a meal of it!
There are numerous settings that you can adjust and even some you are advised to leave well alone, unless you know what you're doing!
You can also choose the simulation mode to test your options before parting with your cash. But you will have to have a funded Betfair account before you can do anything, although this need not be large, as stakes are accepted as little as £0.01.


As my trial license is only for 9 days I opt to use minimum stakes and leave all other settings on default.
Day 1 23rd August
The bet software places lay bets on the first or second favourite and after a fairly uneventful session I end the day with a £0.16 loss
Day 2 24th August I take the chance to read the manual on Back/Lay favourites and made the following changes to the settings:
Betting Bank £20
Use % Staking 0.5% = £0.10
Loss Pot Recovery 100%
I also try placing a user selection lay bet on one of the Irish horse races but fail to notice I need to press a place bet button. Next time I try this it works ok
A useful add-on function called BF Notes enables you to add notes to any horse and the program highlights your comments whenever the horse runs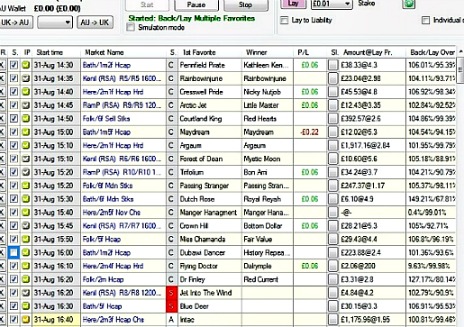 As things are going well I increase the Recovery Stake option to £0.50 which adds this amount to the stake for a bet placed to recover losses. Nothing untoward occurs and I end the day with a £1.23 profit.
Day 3 25th August
I set the bet software up to run in the afternoon and let it run without interefence until mid evening by which time a profit of £2.82 is realised so I stop the horse lay bot and decide to try the soccer bot which starts by laying all matches for a draw, changing the settings to;
Hedge if price changes by 40% - max liability of hedge bet £2 and if no lay bet on the draw then back fav for £0.50 when price below 1.15
What you have to be aware of with the soccer bot is the fact that as matches run for a relatively long time, many bets can be running at once. I don't make anything running this bot so decide to stop further use of it
Day 4 26th August
Start bot before leaving for work as racing starts before I return around 2.30pm - check Betfair at work and no bets placed - check bot back at home and discover I forgot to click the Resume button which sets The bet software in action - doh! So there's a warning! Worth double checking everything when betting live on Betfair
Ran Horse lay favourite bot from 2.30pm to 10pm made £6.40 using 0.50% of bank, stakes generally 17p but loss recovery on of £0.50, so some stakes were £0.67 - excluded one race Lady Sledmore who I thought would win) by clicking the tick in the S column on the left of the markets page - see graphic above
I visit the forum and register - although you need to be confirmed by admin to post, you can search and read existing posts - seems to be quite lively with plenty of comment and owner is open to suggestions for improving The bet softwares systems. Rade the programmer plays a leading and active role responding to users requests and suggestions for improvements.
For example here is a discussion of the merits and explanation of
Loss Pot Recovery

Day 5 27th August - when I open up the bet software I make this observation (Saturday - could encounter turbulence)
Started bot at 10.30am and first race picked up by bot at 10.50am RSA Vaal - after a long days betting I end the day reducing the profit on all horse bets to £0.11
Day 6 28th August
I realize after a small loss today that loss recovery needs careful management but there is plenty of advice on this in the forums. Many folks successfully run the bot without resorting to this facility
Day 7 29th August
I firstly turn off the loss recovery I am using. I then adopt a staking plan called D'Alembert and I end the day with a small loss of £0.07
Day 8 30th August
Today brings a new dawn - I discover Maria who is introduced to me somewhere on the forums and with Maria's staking plan taking over I move smoothly into profit again
The Maria staking plan (available in version 2 as one of several plans) has the following rules
stake 1% bank if price below 3.5 stake
0.60% bank if price below 7.4 stake
0.40% bank if price below 11.0
I also stipulated there should be a minimum of 8 runners for a bet to be placed
Much better day ending in a profit of £0.11 using minimum £0.01 stakes
The user who devised this plan went on to make over £11,000 profit in the first year
Day 9 31st August
Start software at 2.30pm and Bot runs smoothly, placing appropriate bets thanks to our new staking friend, Maria and the day ends with a comfortable profit of £0.48 using minimum stakes.
This is the last day of the trial as the license expires but with the discovery of how to properly regulate the use of BF Bot Manager I realize that good steady profits can be made and I look forward to renewing my license which as I mention previously is a one-off payment
Using the Maria staking plan it is possible to increase your bank on a daily basis by around 3% - so starting with £100 within 4 months your bank could be £4000+
This includes all future upgrades and improvements and you can get a FREE 5 day trial to the two versions of BF Bot Manager V1 £59.95 and V2 £99.95 obtainable
Epilogue:
Finally this what the author Rade has to say when I show him my review:
"I read your review and it seems fine to me. If you continue to use software and chat on forum I am sure that you will learn how all settings work and find several different other ways to use our bots.
In members section there are several test settings by other users, some are profitable and some are not.
Most users that use loss recovery have high strike rate, 90+% so that rarely they have two losses in a row."
Please feel free to publish this review.
Kind regards,
Rade (BF Bot Manager Designer)
NB You can now get free tips placed automatically by BF Bot Manager v3 

Return to Horse Racing Tipster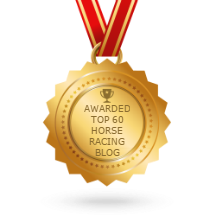 Returns Policy: Once a customer has agreed to pay for a product or service no returns will be permitted or payments returned.
All PayPal transactions are subject to the PayPal Privacy Policy
Privacy Policy: Personal details provided to this site by an individual may be shared with third parties unless requested otherwise.
Above policies updated 15 March 2018