Don't sit on the fence or get left behind at the Cheltenham Festival....
If you have found this site useful and enjoy an ad free site, please feel free to make a small donation to help maintain and improve our service. Thank you, Chris.

At the Cheltenham Festival - Don't follow the crowd just follow the trends!
Cheltenham Festival Uncertainty
2021 Cheltenham Festival Favourites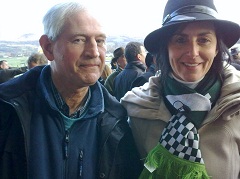 However Tanya Stephenson of Channel 4 Racing is certainly worth following and I was lucky enough to catch up with her at the trials.

There's no doubt Tanya also has a great fashion sense and if you want some tips on what to wear at Cheltenham. Click Here
2017 Festival ante-post best bets
Festival News in brief....
Click Here for Cheltenham Festival Archives
2016 Festival News: Annie Power on come back trail.

Day 1 Tuesday 10 March 2015
 1:30 Cheltenham Festival Sky Bet Supreme Novices´ Hurdle Grade 1 (CLASS 1) (4yo+)

AGE 35 of last 39 races won by either a 5 or 6 year old.

PRICE  Only 5 winning favourites in the last 43 years

TRAINERS IRISH TRAINED have won 9 of last 15

Form - 12 of the last 20 were ex bumper horses particularly having run in previous year's Champion Bumper (2013 -  Briar Hill, The Liquidator)

Headgear - no horse wearing headgear has won in the last 12 years

Selection: Vautour Win - Gilgamboa Place

 2:05 Racing Post Arkle Challenge Trophy Chase Grade 1 (CLASS 1) (5yo+)

AGE Unlikely to be 8yo+ unless Grade 1 Chase winner and rated in high 150s

PRICE  Favourites do not have a good record

TRAINERS Irish trained won 5 of last 18, N. Henderson. Five wins, M/D. Pipe. 4 wins,

Form Most came 1st or 2nd last time out.

Finished in first 2 on any completed chase start that season in GB or Ire.

No more than 5 runs over fences

COURSE FORM Only 1 of last 11 winners has not run at the course

BREEDING  8 of last 19 winners were French bred

RATINGS  13 of last 14 rated at least 142 over hurdles

Selection: Trifolium Win - Rock On Ruby  Win

 3:20 Stan James Champion Hurdle Challenge Trophy Grade 1 (CLASS 1) (4yo+)

AGE Only 4 winners older than 8yo have won in last 60 years - 5yo's are very often placed

TRAINERS  Irish 9 winners from the last 15

BREEDING 3 mares have won this in 87 years.

PRICE 17 of last 21 winners in the first 5 in the market


Day 2 Wed 11 March 2015

(Cheltenham Festival
Ladies Day)

1:30  Cheltenham Festival 12 Mar Neptune Investment Management Novices´ Hurdle Grade 1

AGE Aged 5 or 6

PRICE  Favourites have a good record

TRAINERS Willie Mullins has won 2 from last 6 E. O'Grady has won twice and 4 of the last 8 have been Irish trained. Not David Pipe or Nicky Henderson

Form Most will have won over at least 2m4f if tried at the trip. Will not have finished outside the first 4 in any completed hurdle races. Has been placed in a graded race. Challow winners have a poor record. No winners wearing headgear. Previous Champion Bumper contestants who finished in the first 6. Won a novice hurdle at Cheltenham this season.

BREEDING  Mares have a poor record.  13 from last 15 were NH Bred

RATINGS  8 of the last 10 runners with the highest rating have been placed at least with 3 winning
2:05 12 Mar RSA Chase (Grade 1) (CLASS 1) (5yo+)
 
AGE Aged 7 or 8

PRICE  Favourites have a poor record

TRAINERS Irish trained will be placed at least. Possible winners this year are Ballycasey, Don Cossack or Carlingford Lough. Not run in past 27 days but had a run this year. Paul Nicholls has won twice.

Form Most Will have finished 1st or 2nd last time out. Won a graded chase over 2m5f or chase over 3m. Run between 3 - 5 times over fences. Will not have finished outside the first 3 in any completed chase.

RACES Horses that contested the Feltham and the Reynoldstown have a porr record

BREEDING  National Hunt bred. Previous flat runners have not won in past 15 renewals

HEADGEAR Won't be wearing blinkers

RATINGS  Has a hurdle rating of at least 134.  Will have won a listed hurdle. 
3:20  12 Mar BetVictor Queen Mother Champion Chase Grade 1 (CLASS 1) (5yo+)
 
AGE Aged 9 or less - a 10yo priced at less 10/1 will place (currently Alderwood)

PRICE  Favourites have a poor record - only 2 in last 8 renewals

TRAINERS Paul Nicholls - 4 winners and 5 placed from 23 runners

Form Will have won this season and come 1st or 2nd last time out unless failing to complete. Won a grade 2 chase. Had no more than 4 runs this season. Will have won 1/2 of all NH starts and had at least 7 runs over fences.

RACES 22 from last 29 won or placed at Cheltenham Festival before.

BREEDING  No mare has won - French breds have a good record

HEADGEAR No winners wearing headgear

RATINGS  rated at least 160
5:15  12 Mar Weatherbys Champion Bumper (A Standard Open National Hunt Flat Race) Grade 1 (CLASS 1) (4-6yo)
 
AGE Aged 5 or 6 or unbeaten
 
PRICE  No favourite has won in the last 8 renewals

TRAINERS Irish trained (esp. Willie Mullins won 8 of the last 17 renewals) or English trained 4yo

Form Won last time out - not run for a month at least - finished no less than 4th on any previous run

RACES None significant
 
BREEDING  All 21 winners have had diferent sires

HEADGEAR No winner has worn headgear

RATINGS  None


Day 3 Thu 12 March 2015
1:30 Cheltenham Festival 13 Mar JLT Novices´ Chase (Registered As The Golden Miller Novices´ Chase) Grade 1 (CLASS 1) (5yo+)

Only 3 previous runnings and made a Grade 1 race this year

2011 A P McCoy won on Noble Prince rated 146 (Irish trained 7yo not outside first 2 on 3 previous starts

2012 Sir Des Champs won rated 148 (unbeaten over 3 that season)

2013 - Benefficient won rated 147 (won prep race)

2:40 13 Mar Ryanair Chase (Registered As The Festival Trophy Chase) Grade 1 (CLASS 1) (5yo+)

AGE no significant stats
 
PRICE  8 from 9 winners came from first 3 in the betting

TRAINERS Irish have yet to win this since inaugural race in 2005 (upgraded to Grade 1 in 2008)

Form Course chase form is a significant advantage, no more than 3 races since October, placed at least last time out

RACES Paddy Power or Peterborough Chase
 
BREEDING  no significant stats

HEADGEAR Only winner to win wearing blinkers was Our Vic in 2008

RATINGS  Winner rated 160+ all placed horses were rated 156+

3:20  13 Mar Ladbrokes World Hurdle Grade 1 (CLASS 1) (4yo+)
 
AGE 6 or 7
 
PRICE  6 favourites from last 13 have won, 17/2 is the biggest price since 1999

TRAINERS Irish have yet to win this since inaugural race in 2005 (upgraded to Grade 1 in 2008)

Form 1st or 2nd last time out, 1st or 2nd in all hurdle races this season, no more than 3 runs this season, not a front runner,  placed horses should include a contestant of this season's Cleeve Hurdle

RACES At Fishers Cross or Zarkandar are unlikely winners, placed at least in the previous Cheltenham Festival
 
BREEDING  no significant stats

HEADGEAR No headgear
Day 4 Fri 13 March 2015
1:30 Cheltenham Festival 14 Mar JCB Triumph Hurdle Grade 1 (CLASS 1) (4yo)
 
AGE No stats
 
PRICE  Winner likely to come from first 4 in the betting, 18 of last 21 were favourite or second favourite last time        out,Only 4 from the last 26 Triumph Hurdle favourites have won

TRAINERS A King and N Henderson have good records, Irish have poor record

Form If raced on the flat run at 1m4f at least, won a Group 1 hurdle, Won at least half of all hurdle starts, won  or      placed in a Group 1 last time out, Irish Leopardstown G1 winner to be placed at least,

RACES Adonis Hurdle at Kempton, Winner of Juvenile Hurdle at Cheltenham in November is likely to place
 
BREEDING  Mares have a good record, 13 from last 17 bred by a Group 1 winning sire

HEADGEAR No headgear

RATINGS  80+ on the flat
2:40 14 Mar Albert Bartlett Novices´ Hurdle (Registered As The Spa Novices´ Hurdle) Grade 1 (CLASS 1) (4yo+)
 
AGE Aged 6 or 7
 
PRICE  Short priced favourites have won but so has a 33/1 shot

TRAINERS Irish trained have a good record

Form Has won a hurdle race over at least 2m4f, run at least 3 times over hurdles, 1st or 2nd last time out in graded class, not raced on the flat, course form an advantage

RACES Previous course form over distance
 
BREEDING  no stats

HEADGEAR No headgear - only one winner

RATINGS  no stats
Click link below for analysis of Gold Cup 2014

3:20  14 Mar Betfred Cheltenham Gold Cup Chase Grade 1 (CLASS 1) (5yo+)
I am indebted to gaultstats for many of the Cheltenham Festival stats on this page